Finding the Top 3 natural energy drinks was a mission of ours due to the increasing need and want for energy, caffeine and a little pick me up when we are feeling low or running on fumes. The supermarket shelves are stacked with different energy drinks but some are packed with chemicals and bad sugars. Buyers that are more health conscious are looking for natural energy drinks which contain real flavourings, vitamins, minerals and no added sugars.
The most popular energy drink brands on the market are currently Red Bull, Monster and Reign. Other top energy drink brands include Bang, Nocco, 3D and Relentless. Some of these brands do offer low sugar and low caffeine energy drinks but they have yet to focus on the natural market.
The most needed want aside from energy from an energy drink is flavour. We need something great tasting, full of fruity flavourings, refreshing and that leaves a nice aftertaste. Natural energy drinks come in two most popular forms: powder and pre made cans/bottles.
Top 3 Natural Energy Drinks
| | |
| --- | --- |
| Number One | Tenzing Natural Energy 250ml cans |
| Number Two | Good Earth Good Energy 250ml cans |
| Number Three | XITE nootropic energy 250ml cans |
Tenzing Natural Energy Drinks
Tenzing Natural Energy drinks are made purely from plants which is the most natural you are going to find when it comes to anything, let alone an energy drink. With the tag line "The new way to energize yourself" the brand are committed to keep their drinks low calorie, sustainable and made purely from plants.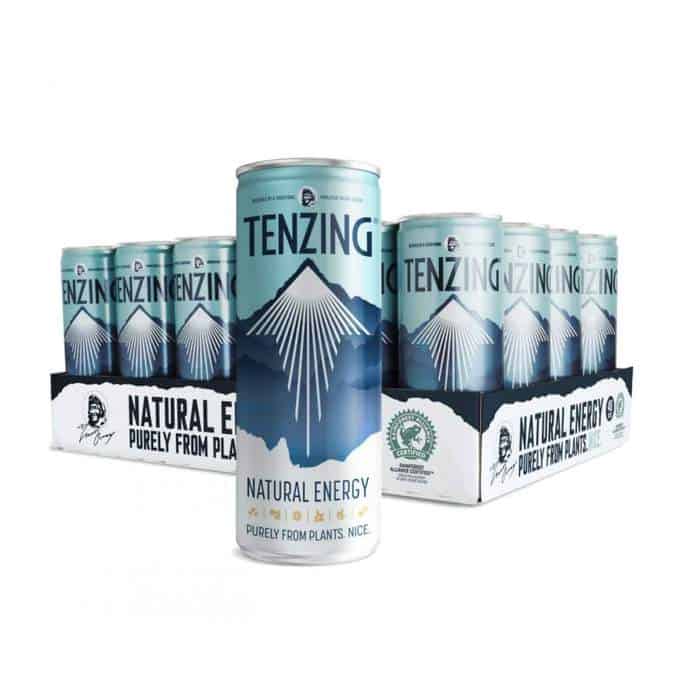 Tenzing Energy Drinks Flavours: Pineapple and passionfruit, original recipe, raspberry and yuzu, blackberry and acai and you can even buy a mix of them all in the Tenzing classic combo pack.
The price of Tenzing energy drinks is £25.99 for a pack of 24 x 250ml cans which makes it one of the lowest price energy drinks on the market. If you subscribe for a monthly delivery via the Tenzing Website you will even save 5% which brings the price down to just £24.69. A big of a bargain if you ask us!
Good Earth Good Energy Drinks
Probably a brand you have not heard and let alone tried yet but the Good Earth, Good Energy drinks company are becoming more and more popular for those wanting a midday boost but without drowning their system in added sugar and caffeine.

With ingredients sourced from Ecuador including Guayusa, lemon juice, blood orange and hibiscus extract you can rely on sustainability, fair trade, incredible flavours and a seriously refreshing, energy boosting drink.
The price of Good Earth, Good Energy drinks is £28.80 for 4 cans which is very reasonable and under the expected £2 cost of most high-street found energy drinks. You can return the cans worry free and with only 50 calories per can and containing 15mg of added Vitamin C you can be sure that you have found a complete bargain.
Xite Nootropic Energy Drink
XITE is becoming a bigger and bigger brand by the day thanks to their marketing, branding and incredible product. The XITE Nootropic energy drink which is now available in flavours peach/passionfruit and Watermelon/raspberry is one of the best tasting drinks we have ever had. Not just the best tasting energy drink but drinks period.
A 24 pack will cost you £29.99 which make it the most expensive out of our three. You can, however save 12.5% when buying direct from drink xite if you subscribe and save which brings the price down to just £26.24.
The XITE energy drink offers natural caffeine and flavours, zero sugar, zero colours, preservatives or taurine and also contains Ginseng and Vitamins. This product along with all in this list is Vegan. Each can contains 3 active nootropics, 118mg of natural caffeine and 5 vitamins.
---
If you are looking for more top reviews of your activewear brands, protein or supplements please visit the Gymfluencers Review Page. We also offer a Discounts Page which lists promo codes for all major companies that we are partnered with.