Whether you're an early bird at the gym, or hitting a late-night session, energy drinks are a great way to give you that extra boost and smash your workout. But with so many on the market, where do you start? Here at Gymfluencers, we've rounded up the 5 hottest energy drinks at the moment, and all their amazing benefits!
Prime Energy Drinks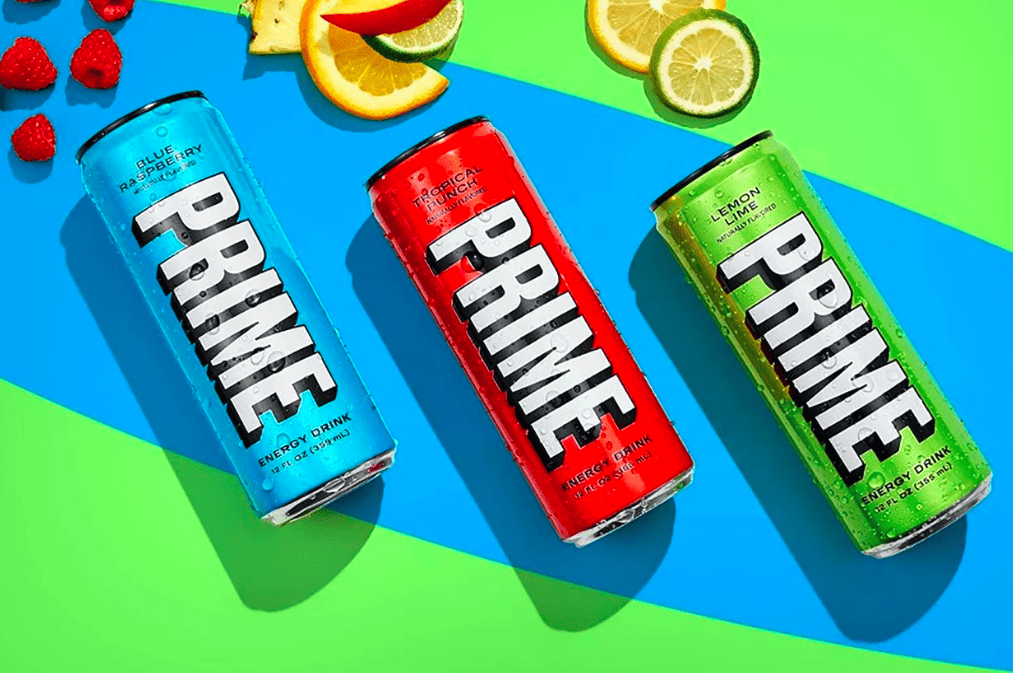 Prime Energy Drinks caused not only a social media storm, but a shopping frenzy when they were first released. With their product flying off the shelves, we wanted to see what the hype was all about.
The Prime Energy Drink can be found in 5 flavours: Strawberry Watermelon, Blue Raspberry, Tropical Punch, Lemon Lime, and Orange Mango. Each drink contains zero sugar, 250mg of BCAAs, 830mg of electrolytes, and 200mg of caffeine, meaning it packs quite a punch, especially when you compare it to the 80mg of caffeine in a Redbull. However, the benefits of BCAAs and electrolytes are tenfold, and a great post-workout replenisher.
It currently retails at £2 a bottle, and a case of 12 at £24.99, and can be found in Sainsbury's, Asda and Lidl stores.
Overall, Prime Energy Drinks are packed with supplements that will help you get the most out of your gym session, and aid recovery after. But if you want to get your hands on them, you'll need to be fast— this product doesn't stay on shelves for long!
Visit the Prime website to shop now.
Reign Energy Drinks
REIGN Total Body Fuel describes their approach to the performance energy drink category as 'innovative', and not just settling for average, and we couldn't agree more.
One of the strongest caffeinated energy drinks on the market at 300mg, Reign is not for the faint-hearted. However, it is aimed at performance athletes, and boasting 1000mg of BCAAs, B-vitamins and CoQ10, it certainly lives up to expectations. Like Prime, it's another zero sugar option, however it has the addition of containing zero artificial flavours too. This makes a Reign a highly effective energy booster that isn't outweighed by any nasties.
It also has a large selection of flavours, ranging from Sour Apple to Strawberry Sublime, so there's bound to be one you'll love. Currently retailing at £1.70 in major supermarket Sainsbury's, it couldn't be easier to start your energy-drink journey.
Visit our store here to buy Reign Energy Drinks.
Ghost Energy Drinks
In the last 3 years, GHOST has brought us the likes of cereal milk-flavoured whey, creatine muscle builder, and beauty maintenance tool GHOST Glow. Arguably their most successful of all the launches has been GHOST Energy, their range of refreshing on-the-go energy drinks, filled with essential nutrients and containing zero sugar!
The 3 classic flavours of GHOST energy drinks are Citrus, Tropical Mango and Orange Cream, and they currently have a limited edition Sour Watermelon flavour as a collaboration with Warheads. The wide range of flavours means that there is both a flavour that everyone would enjoy, and also the opportunity to be a little more adventurous!
But here's what sets GHOST apart from the rest; founders Ryan Hughes and Daniel Lourenco have clearly done their research and tailored the perfect cocktail of vitamins for each drink. Each drink contains a perfect blend of L-Carnitine, Alpha-GPC, B-vitamins and AstraGin that promotes not only a healthy body, but a healthy mind too.

In terms of caffeine levels, GHOST energy drinks contain 200mg of natural caffeine, and 100mg of NeuroFactor coffee, putting it over the performance drink REIGN for highest overall coffee levels.
GHOST energy drinks currently retail at £31.99 for a box of 12 cans, and can be found at UK providers online.
Use our Ghost discount code, LEGENDS20 for 20% off! You can visit the Ghost website here to shop now.
Spacegoods Rainbow Dust
Next on the list isn't something you'd expect.. an energy drink formulated of powerful mushroom adaptogens, vitamins and other key nutrients that promote natural energy production! Meet Spacegoods Rainbow Dust.
Spacegoods describe their product as providing 'zen-like calm' and also 'zero jitters and zero crash', meaning it is a worthy rival to the highly caffeinated products in the market. To turn Rainbow Dust into a drink takes only 3 easy steps: Scoop your serving, mix with water/milk/protein shake, and enjoy your drink!
The blend contains 3 different kinds of mushrooms; lion's mane, cordyceps and chaga, which serve to stimulate memory and focus, boost energy, and provide immune support respectively. Other key ingredients include Ashwagandha and Rhodiola Rosea, which are highly effective in reducing stress and anxiety levels. The natural production of energy, combined with the additional benefits of reduced stress levels, makes this an energy drink like no other.
Nevertheless, Rainbow Dust does still contain some caffeine, however this is at the fairly low level of 80mg, making it a suitable alternative to those sensitive to caffeine, or looking to reduce it in their diet.
Coming in flavours such as classic chocolate and honey and ginger, and retailing at £49 per pack (provides over 30 servings), we can see why Spacegoods have caused such a stir! What's more, they are currently offering premium packs at £59, where you could get a mug, electric whisk and measuring scoop for only £10 extra. Here at Gymfluencers, we'd strongly encourage you to give this blend a try!
Head over to the Spacegoods webiste and use code GYMSG15 for 15% off
3D Energy Drinks
With refreshingly light flavouring, low-carbonation and sugar free ingredients, 3D energy drinks are ticking all the boxes for a simple yet effective energy drink that could be incorporated into any workout.
One of the most appealing factors of 3D energy drinks is that they stick to very light and classic flavouring, such as citrus and berry, yet the titles are fun and a slight 'twist', such as 'Cotton Candy' and 'White Frost'. 
And 3D certainly live up to their name with an innovative web design that lets you view the drink designs in 3D, accompanied by their calories and caffeine levels. Most of the flavours are 15 calories and 200mg caffeine, however flavours such as Liberty Pop contain slightly more calories. While it is a minimal difference, the informative and engaging web design keeps customers up-to-date on their products and makes it easier for them to make their best choices!
Head over to our store to try one today for only £1.49!