A high daily protein intake should be a staple for anyone involved in regular sports and exercise. Under the spotlight today is Per4m Whey – the protein powder everyone is talking about at the minute. Here's why everyone is talking about it.
You see, partaking in physical activity is ultimately good for our bodies, every time we work out we're essentially assaulting our muscles.
The stress caused by lifting weights in the gym or sprinting around a football pitch damages the muscle fibres, creating micro-tears that need to be repaired.
Consuming 1-2 shakes in addition to your daily meals is a great way to up your overall protein and build lean muscle to support your health and performance goals.
But choosing from the wealth of protein powders on the market nowadays can feel overwhelming. At Gymfluencers, we do our best to slurp and chomp our way through the masses of shakes and bars to help you make an informed decision.
Luckily, we managed to get our hands on a tub of Per4m Whey, and here's what we thought…
The Brains Behind The Brawn
Before reviewing the product I always like to look at the company that created it. In my experience, the first indicator of whether a protein powder is going to be good or not is if the brand behind it was formed by people who are active members of the fitness community themselves – and Per4m certainly fits that bill.
It was originally founded in 2011 by a team of gym and triathlon obsessives who had extensive experience in the world of sports nutrition, working with many of the leading US brands for more than 20 years.
In 2018, the company merged with Hatch 19, an active nutrition incubation company that promises its customers unwavering dedication to fulfilling high-quality products for those passionate about living a fun, healthy lifestyle.
Its main aim is to develop great tasting, effective and affordable nutritional supplements, snacks and beverages for men and women, offering diverse options that appeal to unique dietary requirements such as high protein, low carb, vegan and gluten-free, among others.
Per4m Whey Protein Powder
Now we've set the scene a little bit, it's time to analyse the formula. Per4m Whey boasts 21-22g of protein per serving from a blend of whey protein concentrate, whey protein isolate, milk protein isolate, and skimmed milk powder.
Whey protein is a mixture of proteins isolated from, you guessed it, whey. But what exactly is whey? Whey is the liquid part of milk that separates during cheese production. You may have even seen it floating on the surface of your yoghurt after you've left it open in the fridge.
As a protein, it is streets ahead of some other sources. It contains an incredible range of essential amino acids which are absorbed quickly by the body. Whey protein is one of the best-researched supplements in the world, and various studies have shown that it can help you increase strength, gain muscle, and lose significant amounts of body fat.
So, to circle back around to Per4m's formula, it's a big thumbs up in that respect. I tend to steer clear of soy protein where possible, so I was happy to see that soy was only included in the form of soy lecithin, which is essentially a preservative and blending agent.
In terms of the remaining macros, each 30g shake returns less than 1g of fat, 3g of sugar, and 102 calories, meaning there's plenty of room to double up for added protein if you're playing catchup.
Per4m Whey: The Taste Test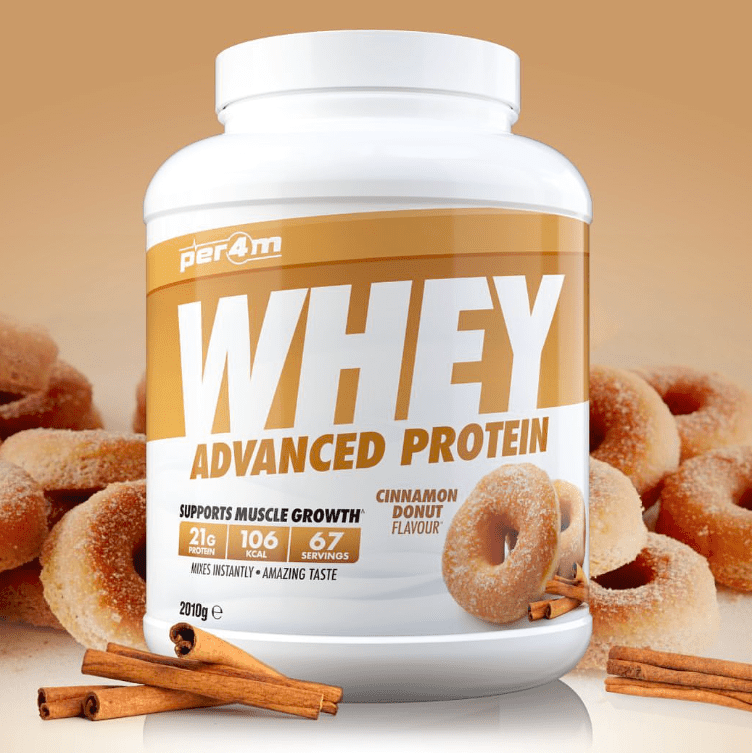 Per4m Whey Protein Powder is available in a whopping 28 different flavours including Apple Strudel, Chocolate Brownie Batter, Cinnamon Donut, and Neapolitan Ice Cream. Basically, there's a good chance your favourite dessert is on the list.
I opted for Coconut Cream as I'm slightly over chocolate, and I like how light coconut can be on the palette. One of Per4m's key aims is to ensure you don't have to sacrifice taste for results, and I certainly didn't feel like I was missing out on anything.
The shake was nice and sweet but didn't taste synthetic, and I didn't find myself needing to take a break to get it down like I usually have to.
It's always hard to judge a protein without using it for an extended period, but it certainly felt clean and didn't leave me with an upset stomach, either.
As Per4m promised, the price was definitely reasonable and among the more affordable proteins on the market. Each tub, which contains 30 servings, costs £34.99. It doesn't take an expert mathematician to work out that's just over £1 per shake, which is pretty incredible value if you ask me.
Overall this protein powder gets a big thumbs up. If you want to grab a tub, head over to Per4m's website
.