Get your glow on and give your health and wellbeing a boost at the same time with JSHealth Vitality X + Collagen.
There's a lot of buzz around collagen products at the moment, thanks to the amazing health and beauty benefits they provide, and if you're thinking about giving one of them a try then we highly recommend Vitality X + Collagen from JSHealth.
The great-tasting formula blends Marine Collagen with a unique mix of ingredients to get your skin glowing and give you a renewed sense of vitality.
JSHealth Collagen Powerful ingredients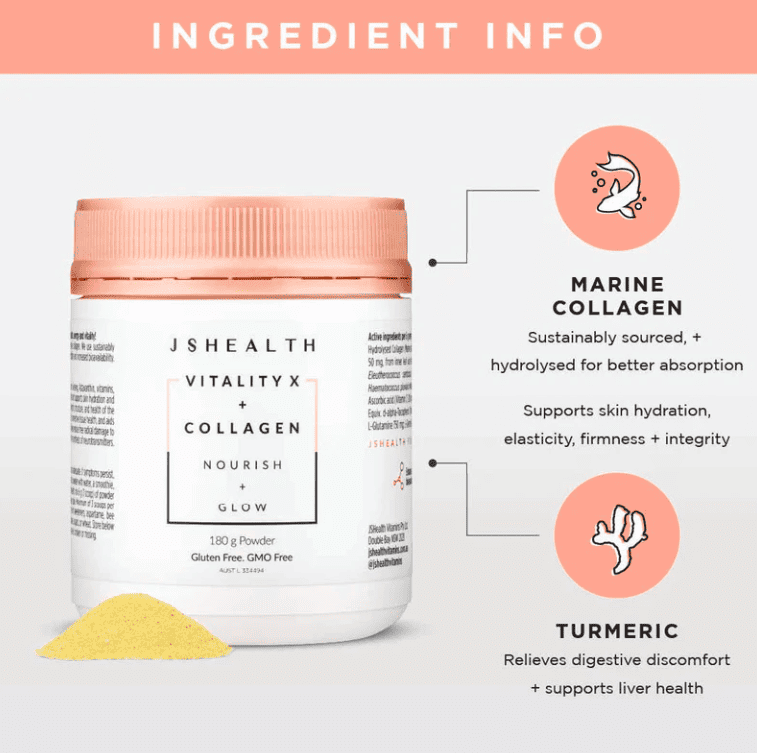 The main ingredient in JSHealth's Vitality X + Collagen is sustainably sourced Marine Collagen peptides which are activated in a way that makes them easily absorbed and that work to support your body's natural collagen formation, improve skin elasticity, boost hydration, and reduce the appearance of fine lines and wrinkles.
And that goodness is enhanced by the addition of 10 more powerful ingredients that all work together to provide a whole host of benefits.
These ingredients include turmeric, vitamin C, and vitamin E and they've all been carefully chosen for the different benefits they give to your skin, hair, nails, and energy levels.
JSHealth Collagen Amazing benefits
Taking Vitality X + Collagen every day is an amazing way to support your body and get that kind of glow that comes from taking care of your health, but there are also loads of extra benefits thanks to the unique mix of ingredients.

The vitamin C helps to maintain and support collagen formation, while also working to support healing, reduce free radicals in the body, support healthy joints, and boost bone health and immune health. On top of that, it helps your body metabolize fat and supports overall health and wellbeing.
The addition of Tumeric means the formula works to support your digestive system, support and protect your liver, and also works to reduce free radicals and the damage they do to your cells.
Another key ingredient in the formula is Astaxanthin, a keto-carotenoid which helps to maintain and support skin integrity, structure, firmness, and health, so it plays a big role in giving you that gorgeous glow.
The JSHealth Collagen Supplements are Easy to Take
The beauty of Vitality X + Collagen is that it's so easy to make taking it part of your daily routine. It's just like all the other amazing supplements from JSHealth. All you need to do is give the container a quick shake then mix one scoop of the powder with water or a smoothie (or any other cold drink of your choice really) and drink up.
The formula is sugar-free, dairy-free, gluten-free, and nut-free, but with it being made with marine collagen it's not suitable for vegans and anyone with a fish or shellfish allergy should steer clear.
The age-defying, glow-giving formula from JSHealth is backed by scientific research and developed with nutritionists to make it the most comprehensive out there to support overall beauty and vitality from the inside out.
So why take a simple collagen product when you can choose this and get so many extra benefits for your skin, hair, nails, and overall health?
A 180g tub of JSHealth Vitality X + Collagen is £39.99, but you can save on that price by taking out a subscription and getting a new tub delivered to your door every month, bi-monthly, or every 3 months. You can also pause, cancel, or swap the products you're subscribed to at any time.
So what are you waiting for? Pop on down to the JSHealth website and grab yourself some fancy exclusive savings. Score 20% off all JSHealth products with our exclusive code UKGF20.