If, like me, you're a woman who loves to work out, you'll know that it's important to have the right gear. I mean, in the very beginning you don't need much more than a decent pair of trainers, a good sports bra, and maybe a set of dumbbells to lift at home.
But once you start to take things a bit more seriously you'll find that having a few more of the right gym accessories can help you reach your goals, stay motivated, and prevent injuries.
So I'm really excited to share my top 5 gym accessories that every woman should have to help them up their fitness game and reach their full potential in the gym.
1. Forme Shaker
When you start taking your fitness journey seriously you'll learn that protein is one of the key macronutrients that we all need to get enough of to be able to build lean muscle and get in shape, and shakes are one of the best ways to up your intake every day.
There are loads of protein shakers on the market for mixing up your shakes on the go, but a lot of them are plastic and cheap-looking and not at all leak-proof if you want to stash them in your gym bag.
So my must-have pick for packing in the protein is the gorgeous, stainless steel shaker from Forme.
The sleek design looks beautiful, it's totally leak-proof, and it can keep your drink cold for up to 12 hours.
It's also got a silent shaker mechanism that mixes your protein shake so it's perfectly lump-free but without making a ton of noise like your standard shakers with whisk balls do.
Oh, and there's even a little storage container that screws into the bottom of the bottle that can hold up to 35g of supplements or protein powder, ready to mix up when you're out and about.
The Forme shaker comes in 4 classic colours and costs £35, but you can save 20% off that price by using our discount code GF20 at the checkout. 
2. Built For Athletes Recovery Bundle
When you start upping your game in the gym you might find that you could do with a bit of a helping hand with recovering and dealing with sore, tired muscles.
The Recovery Bundle from Built for Athletes is ideal for just that, with everything you need to recover after a tough workout so you can get back in the gym again quicker.
The bundle comes with an adjustable foam roller, a tub of Applied Nutrition's BCAAs, and a Built for Athletes recovery massage ball.
The foam roller and massage ball are both ideal for soothing and releasing sore, tense muscles, and helping you relax and improve flexibility. While the BCAAs supplement is a workout and recovery drink mix that helps maximise training intensity while also providing you with the perfect blend of re-hydrating electrolytes and salts.

You'd normally pay £42.97 for the bundle, but with our exclusive discount code GYMFLUENCE15 you can save yourself 15% off that price, and still get free shipping from Built for Athletes.
Visit the website here to shop now.
3. The Cup
If you've heard of cupping before you might think of it as being a bit woo-woo and 'out there', but it's actually a technique that's been used by professional athletes for years to relieve muscle tension and speed up recovery time.
The Cup from Trainin Day is a modernised version of the traditional cupping method which delivers incredible results.
All you do is place the cup on the part of your body that needs a bit of attention, and it uses negative pressure to replicate deep tissue massage and increases blood flow which helps you recover faster using vibration and heat therapy.
Sound good? Well here's something that'll make it even better! With our discount code GYM20 you can save an awesome 20% off your order, so head over to Trainin Day's website now and check The Cup out for yourself.
4. Amp Yoga Mat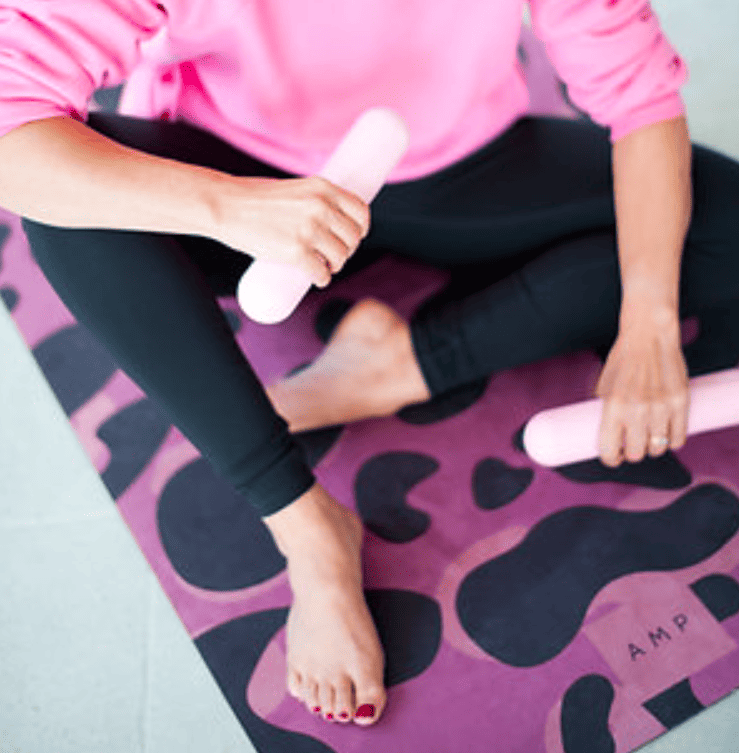 A good quality yoga mat is essential, not only for those who actually practise yoga, but also for anyone who wants to workout at home and not hurt themselves by doing it on a hard, uncushioned surface.
My current obsession when it comes to yoga mats is this one from Amp which has a striking purple leopard print design that just adds a fantastic bit of fun to all my workouts.
It's beautifully soft, made with luxurious vegan suede and natural rubber, and it does everything you need it to do so you can workout in comfort and style.
With a 4mm thickness and anti-slip bottom layer it's perfect for all kinds of workouts from yoga to home hiit sessions, and is also great for taking your workout outdoors in the warmer weather.
You can pick one up for £65 from Amp's website, and if you use our discount code GR20 you can save yourself 20% off the price.
Visit the Amp website here to shop now.
5. The Lumen Device
Take complete charge of your metabolism with The Lumen Device.
The device uses your breath to analyse what your body needs and sends the data to the app which then tells you things like, if you need to eat more carbs or more protein, the best time for you to eat, and even how your body is reacting to the food you've already eaten.
It really is everything you need to optimise your health in one little device, and it's a must-have for any woman who wants to know what's going on with her metabolism and how to hack it to get the best possible results.
Save an incredible £50 off the price of the Lumen device with our exclusive Lumen discount code GYMFLUENCER. Visit the Lumen website here to shop now.