In a world where the word integrity is fast losing value, it's not every day that you come across founders who walk in the same shoes as their customers. But when you do, the result is usually pretty special.
Why? Because at some point in their lives, they've felt the same discomfort, inconvenience, and dissatisfaction as the people they serve. In many ways, they are their own target market.
For Amy Moring and Jeff Webster of Hunter & Gather, that's certainly the case. Jeff suffered from acne, asthma and IBS as a teen, while Amy, a lifelong coeliac, was constantly checking the back of food packaging for her kryptonite, gluten.
After embarking on an ancestrally inspired diet and experiencing drastic health improvements, their message is now clear – a healthy life starts with real food.
As part of our new founders series, we sat down with Amy to delve deeper into the pair's motivations for launching the business, the ups and downs, and everything in between. 
The Birth Of Hunter & Gather
The concept of Hunter & Gather wasn't so much a eureka moment, but rather a realisation over time that there was a gap in the market for healthy condiments and kitchen staples, as Amy explains.
"Hunter & Gather was an idea that Jeff and I came up with over many years. I am a lifelong coeliac and Jeff learnt all about Keto and Paleo from a chance encounter with a GB coach, who encouraged him to research nutrition and, in particular, Gary Taubes.
"This lead us to change our diet to be free from refined sugar, grains and seed oils and we felt great. Many ailments such as acne, belly aches etc all went away.
"Jeff wanted to share this with others and even considered going to train as a doctor. I was working in the FMCG (Fast Moving Consumer Goods Industry) having made the switch from a big corporation to a grain-free pet food startup.
"Between Jeff's desire to help people and my love of marketing and sales, we decided that we could educate people through providing easy 'swaps' starting with condiments and kitchen staples.
"Hunter & Gather the name was made up within one day of brainstorming. We wanted something that symbolised an ancestral real food mission.
"A fun fact is that my grandparents are Hunts and Jeff's paternal side are originally Gathergoods. Hence Hunter & Gather. It was almost like it was meant to be."
Once the wheels were in motion the first product to hit the shelves was an Avocado Oil Mayonnaise.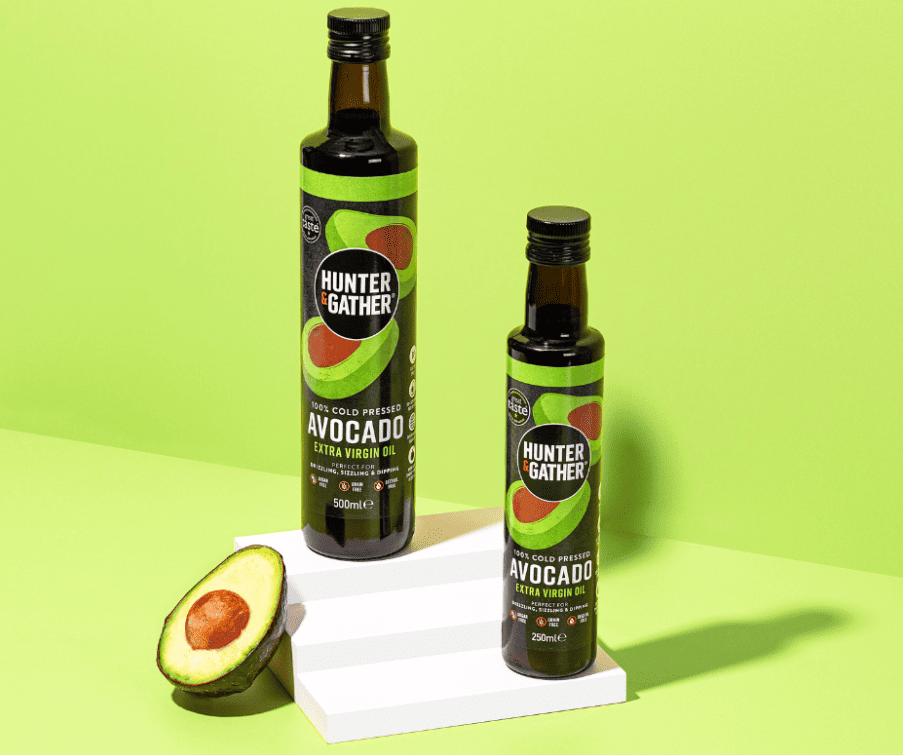 "We knew that many were aiming to eat healthier options but the food was bland and lacking in flavour," she added. "So, what were people doing? Slathering on condiments that are highly inflammatory, packed with sugar and seed oils."
Amy revealed the pair had initially planned to use their own kitchen as a makeshift base for making the mayo, but with two cats in the house she joked it that would have been a 'food hygiene nightmare'.
She added: "It pushed us to find a manufacturer that would work with us. We were very lucky that they took a chance, allowing us to make 300 jars at a time. We still work with that manufacturer to this day!"
With the branding, mayonnaise, and even a website in place, all the pair needed was their first order. Given all that has happened in the six years since Amy could be forgiven for forgetting that seemingly small detail.
Yet, she still remembers it perfectly to this day. She said: "Jeff had created a WordPress website (we now use Shopify) from scratch by watching Youtube videos.
"I started being an active member in some Keto/Paleo Facebook groups and when the website was ready we popped a message in one of the groups for free.
"We got our first sale from that very group and the customer is still a customer to this day. We did a little dance around the living room – a stranger had bought a jar!"
Although a small win at a time it's a reminder of what it can mean for independent businesses to have their risk rewarded and concept gratified by paying customers.
It further serves to prove that there's no qualification or magic seminar that makes you a business owner. Many people simply start with courage and an idea, learning the rest along the way.
And Amy said mustering that initial bravery was the toughest part.
"I know it sounds silly but that's probably the hardest part, actually just thinking, 'I can do it and I am starting today'."
Now, she has this piece of advice for other entrepreneurial hopefuls: "Just do it. You can read all the books in the world, meet all the mentors in the world – but really it's as simple as just starting and then you will figure it out as you go along. Just be curious, have a desire to succeed and you will do great."
Naturally, there will be mistakes along the way, and Amy admitted Hunter & Gather has had its fair share. She continued: "There have been a few and many have actually turned out to be good in the long run – because you learn from it and don't let it happen again.
"We had an issue with a wholesaler going bust on us, just after buying in a large amount of stock for a Holland and Barrett launch.
"At the time it put significant pressure on cash flow (as we were never getting that money back) and morale in the team.
"What I could have done better was ensure that the order was insured, or paid upfront for the launch (in an ideal world). Or, got H&B to pay us directly for it."
For those of you who don't know, Amy and Jeff are partners in every sense of the word. While plenty of couples help one another in their business endeavours, it's quite rare that they play a joint role in day-to-day operations.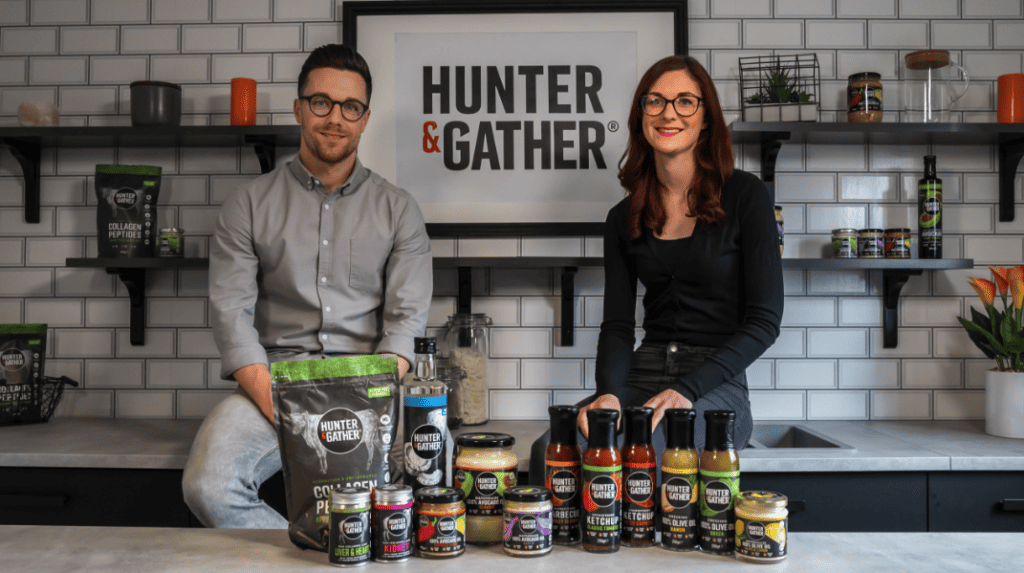 Asked how they make that dynamic work, Amy said: "Have clear communication and distinction in roles, who does what. Treat each other as co-workers in the office.
"Schedule weekly 1:1's – Jeff and I catch up weekly to talk about our calendars and align on key areas. Don't argue in front of the team – which goes back to treating them as one of the team in the office.
"Have the utmost respect for their skills – they may be the opposite of yours, so harness this."

A Success Story For The Ages
While condiments and oils are still very much part of Hunter & Gather's DNA, the brand has since expanded its offerings to include supplements such as Collagen Peptides Protein Powders, Liver Capsules, and merchandise.
As the range has increased so has the revenue, with Hunter & Gather posting some incredibly successful revenue numbers in recent times.
Amy said: "The growth has been incredible since we launched, we have grown year in and year out, even through covid and recessionary pressures.
"We are currently over 84% up on last year at the halfway point and over the next 12 months we want to be on a trajectory of delivering eight figures in 2024."
Those projections will undoubtedly be helped by the recent launch of Hunter & Gather's very own app, which allows customers to make repeat offers with ease and enjoy instant access to new product drops.
Speaking of new products, Amy was tight-lipped on exactly what she and Jeff have in the pipeline but did reveal that there could be multiple surprises coming soon. 
"I am currently working on 6 new products! But you will have to wait and see what they are," she teased.
Now that we've given you a bit of background, I think it's time you heard a little more from the woman with big plans.
Questions With Amy Moring, Co-Founder Of Hunter & Gather
Being the Hunter & Gather CEO what does a typical day look like for you?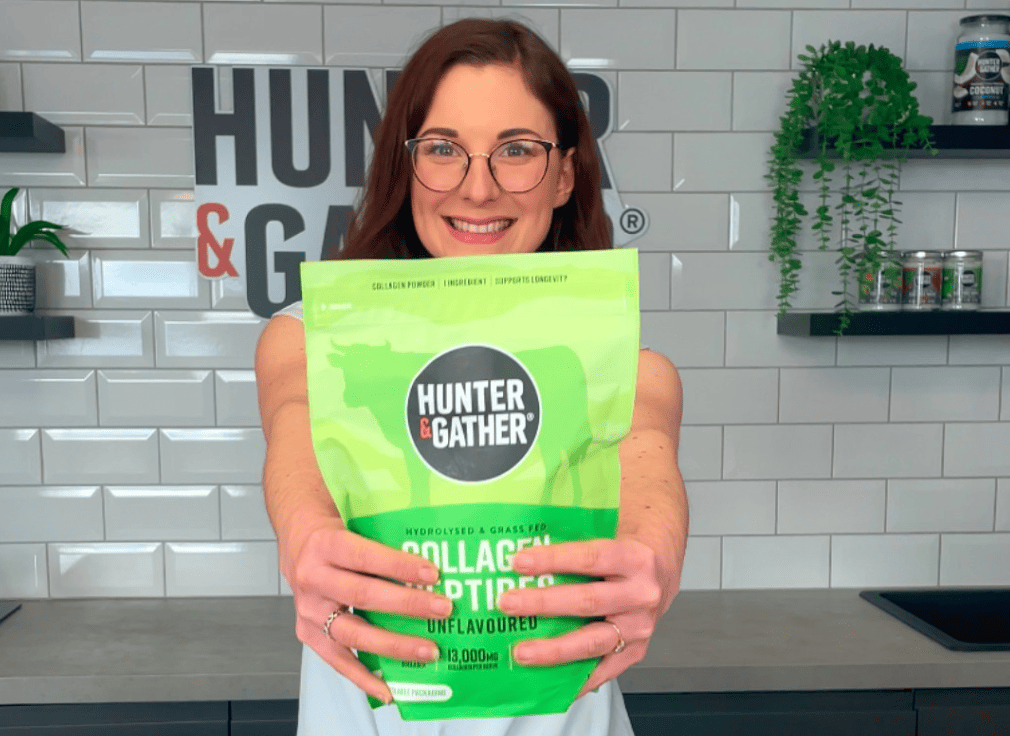 Get up, and have a cup of tea with some MCT oil. Grab some sunlight and hug my doggies – we have 2.
Eat some breakfast – normally berries with yoghurt and some organ capsules (or bacon/meats). Head to the farm where I look after my horses (this is key for me to get in morning movement and sunlight).
Head straight to the office from the farm (with a quick change) and spend the day in meetings, Asana project management or planning the next team event. 
I am a big-time blocker and inbox-zero fan!
What is your current best-selling product?
In terms of value, our collagen peptides. 
Which product do you feel doesn't get enough sales?
We recently did a delist of our horseradish mayonnaise (we do a delist review every year).
The horseradish was giving us difficulties in consistency as we use real horseradish, not powder, so it was a little more watery.
Plus it was a lower seller, so we made the call to reduce the noise and delist. It gave way to a limited edition truffle mayonnaise instead.
What is currently your most profitable form of marketing?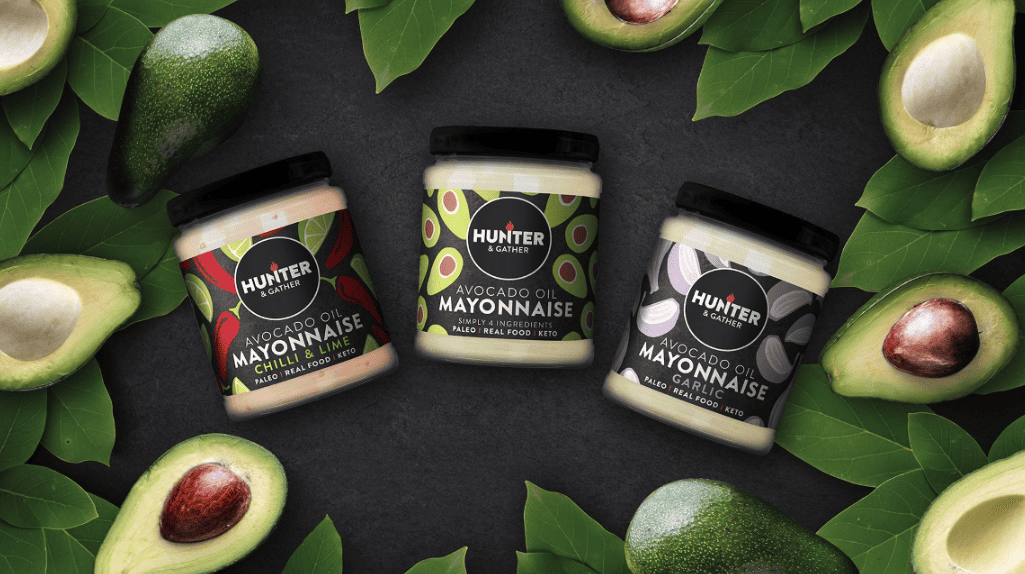 This is a tough one to answer as it's a bit of an ecosystem all working together with what we do. We do FB ads, Instagram Ads, Tiktok has just started, google PPC, email marketing, SMS, push notifications, influencer seeding, affiliates and now podcasts.
If one product you sell currently sums up Hunter & Gather as a brand which would it be and why?
Organ supplements – they challenge the norm, are nature's ultimate superfood, convenient and reliable, innovative and get people talking.
What is a current fad in the health food world that you hate?
Over-processed plant-based food.
If you could own any other brand in the health food space which would it be and why?
Interesting question, if any food brand is looking to sell do hit us up as we are always interested in this as we see Hunter & Gather being broader than just itself in the future. The joy of H&G is that we are a cross-category brand, so we basically shape ourselves to be in whatever category we want as the overarching values remain whether it's snacking, condiments, frozen, chilled etc.

Some brands that we do love, however, outside of food are Wild Deo, Fussy Deo, Vivobarefoot, Oura Ring, Zoe, Lumi Ice Bath, Monk Ice Baths, and so many more!
Your products are available online and in high-street shops such as Holland & Barrett. Where else can our readers find your products?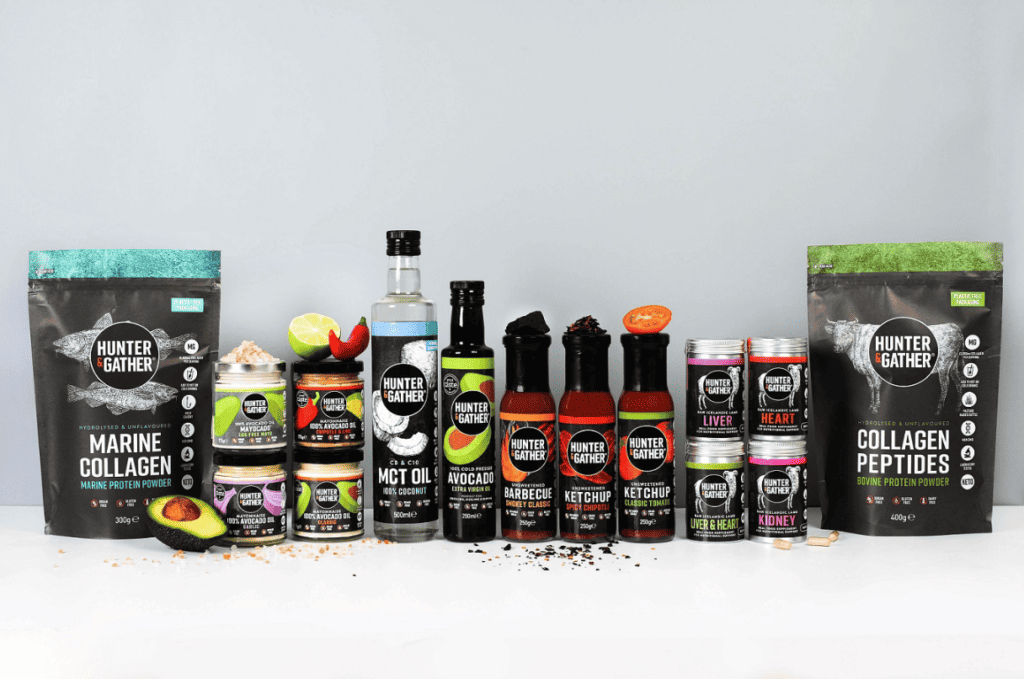 The best place to see the full range is hunterandgatherfoods.com but you can find us on Amazon (Prime), H&B, Booths, Wholefoods, Ocado, Selfridges, Independent stockists like Sow & Arrow, Healf, Primal 8, Planet organic and speciality online retailers like Welleasy. 
Describe your perfect customer in 5 words.
A real-food conventional wisdom challenger
We here at Gymfluencers are big fans of your products and have tried most of them. Our top hack is to use your Avocado Extra Virgin Olive Oil for roast potatoes… is that sacrilege or encouraged?
Absolutely, Avocado oil is the perfect oil to roast, bake, and fry with! It's great for most people as it's non-dairy, subtle and creamy and it's non-inflammatory. It has a higher smoke point than most other oils at 255C, too.
For our Keto or Paleo friends just swap those spuds for celeriac.
BBQ season is upon us. Your mayos are the ultimate addition to all burgers. What else is the mayo perfectly suited for?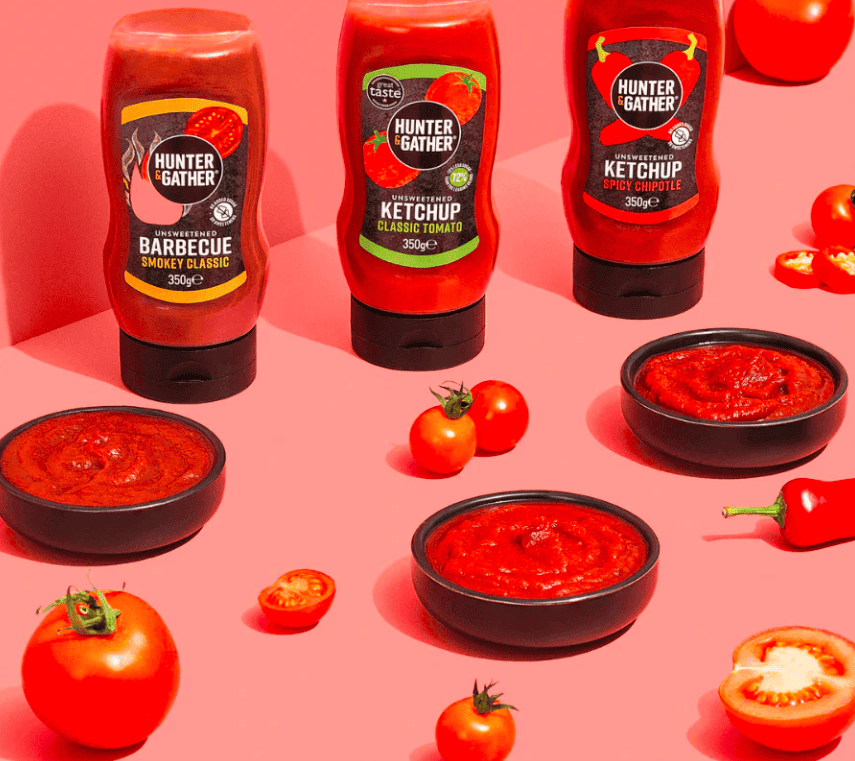 We have mixed our mayos into lots of different recipes! The most surprising is probably our keto chocolate cake recipe with mayo – it's yummy! The most traditional is a dollop on the side of any meal or mixed with some celeriac and cabbage to make a coleslaw.
If you could wave a magic wand and achieve everything you ever wished for your business what would it be?
Come on now, we know there is no silver bullet or magic wand – the fun is in the journey! But for the sake of this, I would say that the brand is recognised worldwide as a transparent, quality brand that puts my health (as the customer) before anything else.
Name one piece of incredible advice you received when building your business.
Revenue is vanity, profit is sanity – keep an eye on the full P&L people. Anyone can sell a £10 note for a fiver… but how long will that be sustainable.
Name the worst advice you have ever received.
'X Company' has been around for years, they aren't going to go bust!
The worst money you have ever spent on your business was…
Hmm.. interesting one, as we were so bootstrapped every penny counted. So it's hard to think about the money we have wasted as we weren't overly flippant with it.
We did buy some FSDUs that all came flat-packed and in individual pieces so we could never work out what bit was meant to go with what.
We had expected them to come altogether made up in a box flatpack per unit, rather than sheets of each piece. It was a nightmare and made it difficult to use them. I think they are still knocking around in our warehouse – I must clear them out.
The best…
Hiring a kick-ass team. We held out for a long time before hiring a team, we utilised freelancers and then only when we knew we could start to afford senior talent did we invest.
Hire 'cheap' hire twice – especially for senior positions. Get some key hires in if you can (although attracting talent is also hard in the early days).
You recently launched an app! What was the key reason for this and has it proved to be the success that you hoped for?
Yes, we are very excited about the App. We are using it to drive our tribe to repeat purchases with fewer interruptions – they can view the site and their subscriptions all in one easy place.
We can also communicate with our customers via push notifications and do App exclusive offers and new product launches.
The floor is yours! Please tell our readers anything else that you think they should know.
We would love for you to follow our journey over on Linkedin, our website, emails or socials.
We are very open and honest about the highs and lows of running a business and we hope that we can encourage you to either improve your own life through a healthier way of living or to inspire you to start your own business!

Find us at www.hunterandgatherfoods.com
LinkedIn: https://www.linkedin.com/in/amy-moring-353596a4/