Greens powders have become massively popular over the last year or so, and the surge in sales has caused a bit of debate over whether or not they're actually worth including in your daily diet. So let's break it down a bit. When it comes to one of our favourites – Applied Nutrition Greens – should you bother buying?
The main argument against buying greens powders is that they're often ridiculously overpriced, offering terrible value for money. In his recent video about Athletic Greens, James Smith's biggest point is that the powder is so expensive that the benefits you get just aren't worth it. He argues you're far better off just including more fruits and veggies in your daily diet.
When it comes to Applied Nutrition's Critical Greens though, this argument falls short.
See, a 30-serving tub of Critical Greens is just £14.99. With food prices the way they are at the moment I'm not sure you'd get anywhere near a month's worth of fruit, veg, or greens from the supermarket for that amount of money.
And with Applied Nutrition greens powder there's no trips to the shops, no faffing around chopping and prepping anything, no figuring out to fit the fresh greens into your meal plan.
You just add a scoop of the powder to 250ml of cold water and give it a mix. It's as simple as that to get your daily dose of greens goodness.
But what is actually in Applied Nutrition greens powder?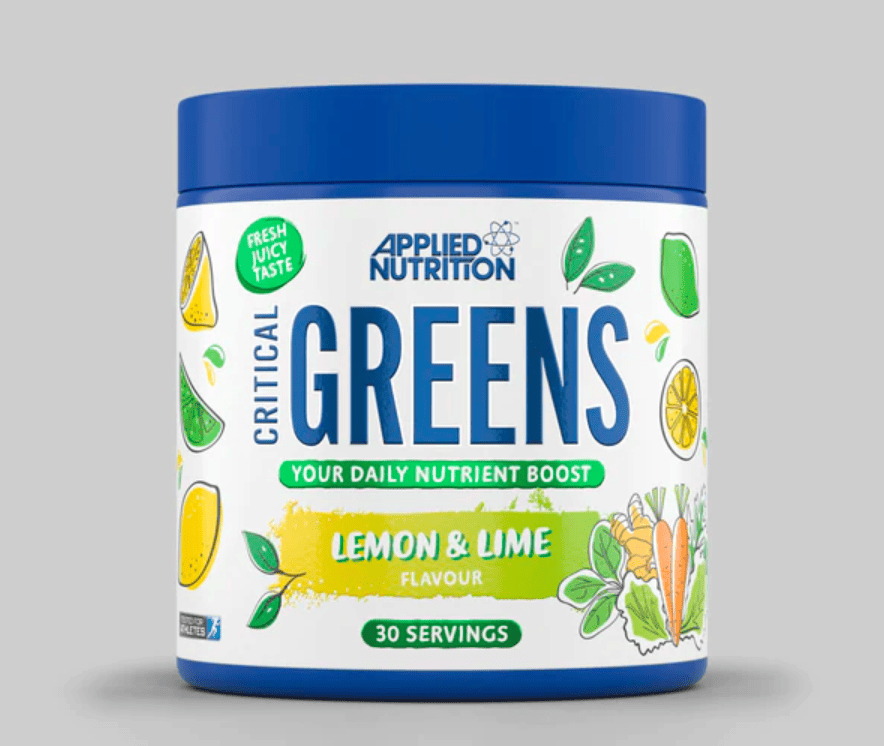 The powder is packed with 17 super green extracts, including Spirulina, Spinach, Wheatgrass, and Kale powder.
Spirulina is a fantastic source of nutrients and has antioxidant and anti-inflammatory properties, while Kale is packed with fibre, calcium and magnesium, as well as vitamins A and C.
Applied Nutrition Critical Greens also includes Green Tea extract which is high in antioxidants, can help with weight loss, and can also enhance performance in the gym and recovery afterwards. It's also got Watercress powder for a great boost of vitamin C which supports your immune system and helps with collagen production, and Broccoli which is full of fibre and a great source of calcium, chromium, and folate.

All the super green extracts work together in the powder to give you a great daily dose of nutrients to support your overall health and wellbeing.
So if you find it a struggle to eat enough veggies and greens regularly then including Applied Nutrition Greens in your daily routine is the perfect way to get the goodness you need. It's especially great for anyone who hits the gym regularly but doesn't always have the time (or let's face it, the inclination) to cook up meals full of veggies and greens.
With this greens powder you can cover all your bases, knowing you're getting a great range of vitamins and nutrients in one easy to make drink.
The greens powder is available in two great-tasting flavours – Apple Burst and Lemon & Lime. I'm personally a big fan of the Apple Burst option. It's got a crisp, fresh apple taste with a delicious subtle caramel back note, and none of that earthy 'greens' taste you tend to get with these kinds of powders.
So drinking a cup of this is something to actually look forward to each day, rather than needing to knock it back as quickly as possible so you don't really taste it!
But on the off chance that you don't enjoy the flavour as much as I do when the powder is just mixed with water, you can also stir it into a glass of juice or blend it up with your smoothie. Just make sure however you drink it you don't do it on an empty stomach.
For us here at Gymfluencers, Applied Nutrition Greens is well worth buying, especially if you're trying to improve your health, fitness, and overall health one step at a time.
It tastes great and is an incredibly easy way to top up your diet with extra nutrients, making getting the goodness you need to stay fit and well one less thing you have to worry about.
So whether you're just starting a new fitness routine or are a well-established gym rat, taking Applied Nutrition Greens is the perfect, stress-free way to support your goals.
Visit the website here to start now.