Veloforte helped me boost my wellness and performance the natural way, and here's how.
I've got a question for you: when did you last read the label of your favourite snacks and supplements? In fact, do it for me now.
Now, be honest, how many ingredients did you know without Googling them? I'd be willing to wager it wasn't very many.
I suppose the point I'm trying to make is that we regularly consume all manner of synthetic flavourings, stabilisers, thickeners, and sugars under the guise of health products.
And why? Just because they have a bit of caffeine or protein in them?
It's time to get tough on what you're putting into your body, and Veloforte is here to help.
If you aren't familiar with Veloforte, I think it's time to bring you up to speed. By harnessing nature's finest ingredients, the brand crafts delicious snacks and supplements that enhance your daily physical performance, productivity, and wellness.
Essentially, its goal is to replace fake flavours, sickly gloop, and ingredients you can't spell with kitchen-crafted real food.
Veloforte's foundations are based on an ancient Italian fortifier: A delicious blend of fruits, nuts and spices, used to create a speciality of Siena in Tuscany, called Panforte.
It is documented that Panforte fuelled the Roman Legions through long treks into foreign lands – perfect due to its robust form, energy-giving properties and long life span.
Well, if it's good enough for the Romans, then it's definitely good enough for me.
Today, we're going to be looking at Veloforte's performance bars, and the rest of its extensive range of supplements which grew from those ancient recipes.
Before we go any further, it's probably worth mentioning that you can get an amazing 30% off the whole lot by using our Veloforte discount code 'GF30'.

Natural Nutrition
Veloforte is a one-stop shop for all your supplement needs. From gut-healthy bars to restorative protein shakes and performance-enhancing chews and gels, it really does have the lot.
As tough as it was, we've picked out three of our personal favourites here at Gymfluencers that we think you'll also love.
Forza Protein Bar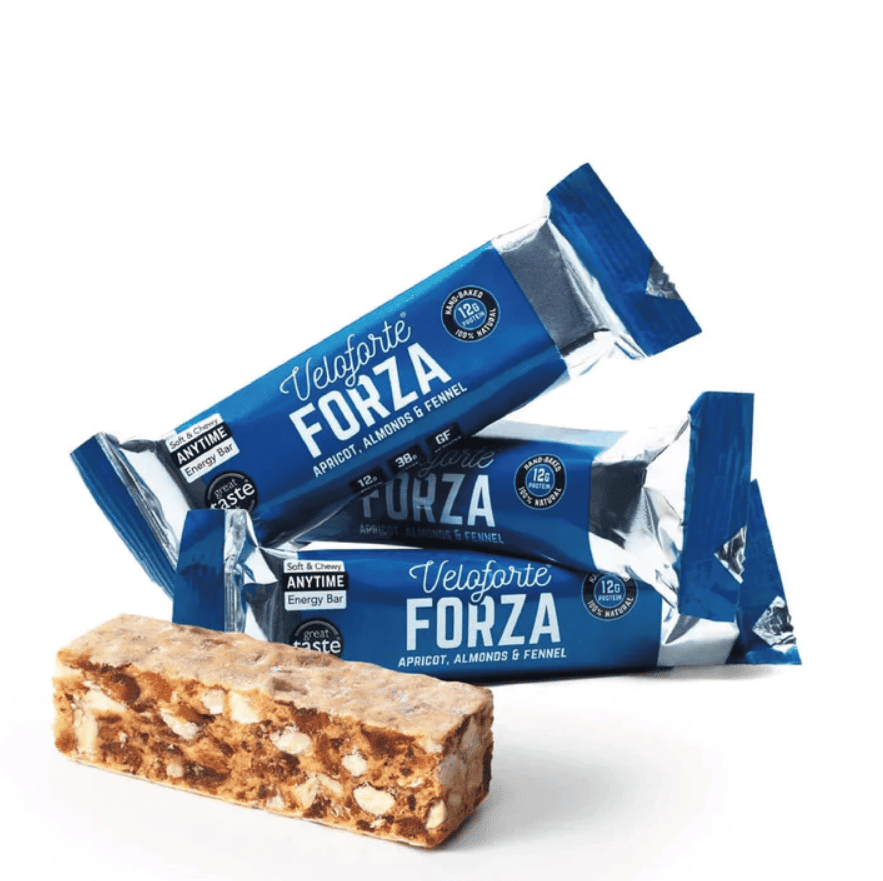 The Forza Protein Bar is one of seven flavours in the Energy & Protein Bar range. But the reason we've picked this one from the bunch is for its ability to kickstart your recovery.
The 100% natural multi-award winning recipe features a 3:1 Carb: Protein ratio, with the carbs coming from rapidly available sources such as apricots, orange juice, agave nectar, cane sugar, and honey. The 12g of complete protein is sourced from egg whites, and it's also certified gluten-free.
In terms of taste and texture, it's soft, chewy, moist, and easy to digest.
Amaro Energy Chews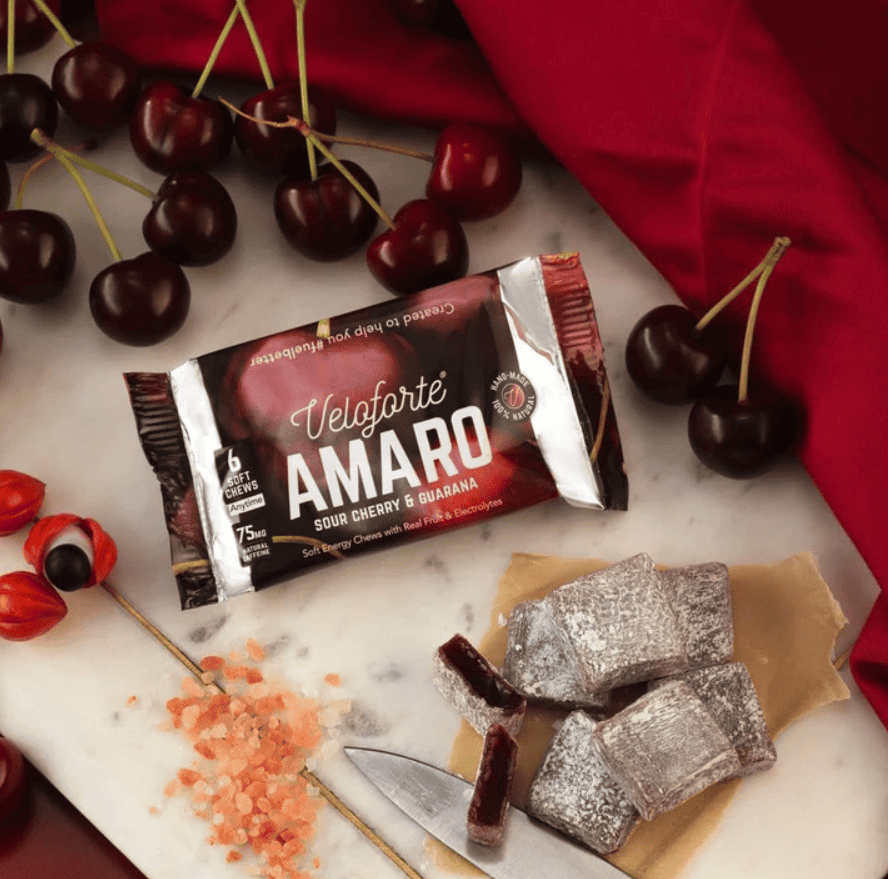 Veloforte's range of energy chews is the easiest way to re-energise and replenish lost electrolytes on the go. We've chosen the Amara flavour as it's seriously sour and totally delicious.
Perfect for before and during exercise, each pack contains 42g of carbohydrates, which are derived from a combination of beet sugar, corn starch, and real fruit juice fruit juices.
This blend provides a mild sweetness and the optimal dual source energy from glucose and fructose – a trusted combination which has been proven to extend endurance performance
Plus, the Amaro chews deliver a mellow boost of 75mg of caffeine. While that's the equivalent of a large expresso, the natural caffeine of Guarana is absorbed slowly by the body, creating a state of calm alertness with none of the coffee jitters.
What's more, the chews are 100% plant-based and vegan-friendly.
Vita – Recovery Protein Shake
If you thought this would be just another bog-standard protein shake, then think again. Vita is crammed full of an anti-oxidant rich berry blend which features Raspberry, Acai, Cherry, and Blackcurrant.
It also contains 400mg of herbal adaptogen Panax Ginseng for antioxidant and anti-inflammatory benefits, and Coconut Water and Pink Himalayan Salt to replace what's lost through sweat.
In terms of protein, the formula provides 13g of Low Lactose Whey Isolate, which is light and gentle on your tummy, with no bloating.
Rounding off the blend is 3g of BCAAs to promote muscle growth and recovery and 39g of natural carbohydrates.
To discover more about all these products, and browse the full range, head to Veloforte's websit here. Don't forget to use our code 'GF30' at the checkout to save yourself some of your hard-earned cash.