We all know that eating enough protein is crucial for anyone looking to improve their fitness, build muscle, and get those gains, right?
Protein is responsible for repairing and rebuilding muscle tissue that's damaged during exercise, and it's also key for muscle growth. So if you're working out hard and lifting heavy in the gym, you also need to be getting enough protein to actually see the muscle growth you're working so hard for.
The thing is, there's only so much chicken, yoghurt, and eggs you can eat before it starts to get a bit boring. So protein shakes are an awesome way to get that extra protein in each day.
We especially love the protein shakes from Veloforte which help you hit your macro targets but also have some amazing extra benefits. We also love that you can get 30% off your order using our Veloforte discount code, GF30.
Veloforte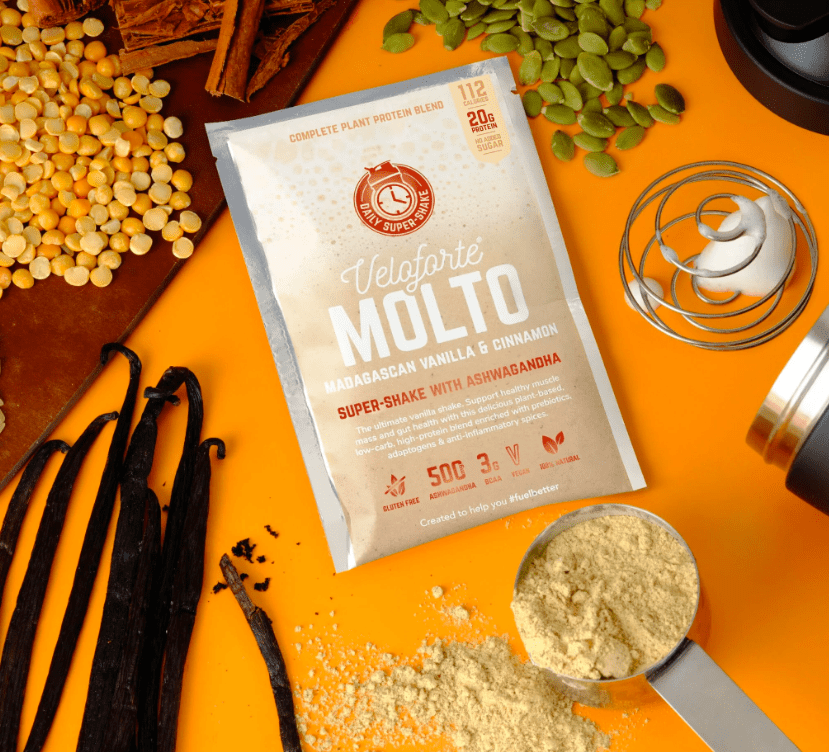 Veloforte is a fitness nutrition company with a great range of products made from 100% natural ingredients that taste amazing and help boost your physical performance, productivity, and all-round wellness.
Veloforte Protein Shakes
There are four different protein shakes to choose from in the Veloforte range, and they all offer something special.
The shakes are all made with complete protein, which means the protein you get from them contains all 9 of the essential amino acids that our bodies can't produce (so we need to get them from our diet). These amino acids are key for muscle recovery and a whole host of other functions like boosting stamina, boosting the immune system, and supporting the central nervous system.
So right off the bat you know you're getting great quality protein from these shakes to help you get those gains.
But let's break down the benefits of the different shakes that Veloforte has to offer.
Veloforte Molto Protein Shake
Packed with 20g of plant protein and only 112 calories per serving, this tasty vanilla and cinnamon flavour shake will get you well on your way to hitting your protein target without impacting too much on your diet.
On top of that, it also contains natural Ashwagandha which helps you feel more calm and balanced. In fact, a serving of Molto can help you handle whatever the day has to throw at you by reducing cortisol levels and inflammation by up to 30% as well as boosting your mood and helping you get a good night's sleep.
And if that wasn't enough, Molto also contains prebiotic fibre to help restore your gut health!
Veloforte Cappo Protein Shake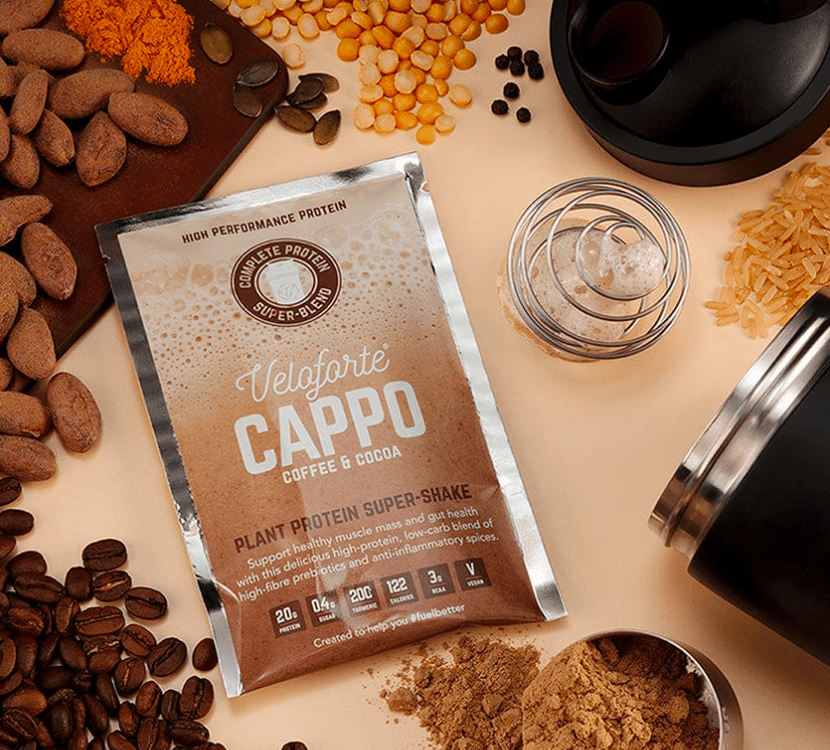 If you want even more support for your gut health, then Cappo is the protein shake you need. Along with 20g of plant protein this shake contains a carefully chosen mix of prebiotic fibre (from chicory root and citrus) which promotes healthier digestion, as well as turmeric and black pepper which have proven anti-inflammatory properties.
The coffee and cocoa flavour of the Cappo shake is incredible, and we love the fact that you can mix things up and really make this shake your own. You can make it with water or milk, blitz it up with ice as a frappe alternative, or mix it up and pop it in the fridge for a bit to let the real coffee flavour develop even more.
Veloforte Vita and Nova Recovery Protein Shake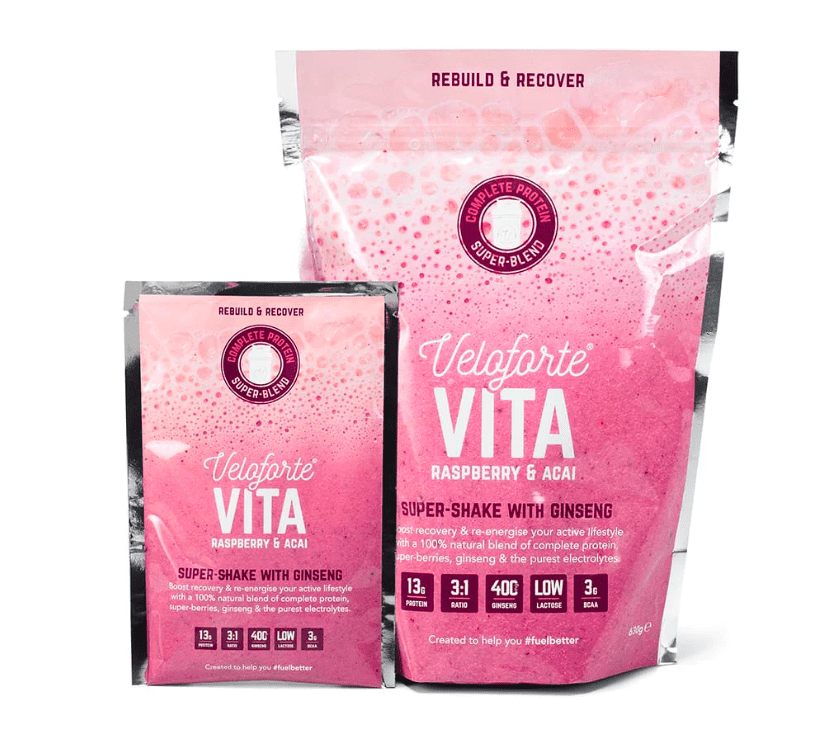 While the Molto and Cappo shakes are great to drink any time of the day for a real protein boost, the Vita and Nova recovery shakes are designed to be drunk after exercise as part of your recovery regime.
They're packed with 13g of complete protein with a 3:1 carbs to protein ratio which is the perfect balance for effective recovery after exercise.
The Vita shake is a light, fruity, superberry and ginseng blend which helps to restore balance and relieve the stress that can be brought on by vigorous exercise, and the Nova shake offers the same benefits but in a smooth, banana, cocoa, and maca blend.
Whichever amazing protein shake you opt for you know you'll be getting everything you need to help you recover, build muscle, and feel great.
And you can feel even better by saving yourself 30% off your shakes with our Veloforte discount code GF30. Visit the Veloforte website here to shop now.