Veloforte bars changed the way I boost my performance for good, and here's why. 
I recently had a bit of an epiphany about what I have been putting into my body. Halfway through slurping a cheap energy drink I span the can around and read the label.
It wasn't that I was surprised by what I saw – after all, I'm well aware such products contain sugar and artificial flavourings. But it was a timely reminder of some of the rubbish I had been pouring into my body before the gym on a daily basis.
While there's nothing wrong with wanting a hit of energy before working out, I knew there had to be a healthier way of getting it.
That's when I came across Veloforte. The brand's ethos is all about harnessing nature's finest ingredients to craft delicious, real food that enhances your daily physical performance, productivity, and wellness.
Its range of energy and protein bars is packed full of real fruits, nuts, and spices to provide all-natural energy and ensure ultimate performance.
Today, we're going to be taking a closer look at these all-natural powerhouses, and delving a little deeper into what makes them so popular among professional athletes and fitness enthusiasts alike.
But before we go any further, it's probably worth mentioning that you can get an incredible 30% off your bar of choice by using our Veloforte discount code 'GF30' at the checkout. 

All-Natural Energy
Veloforte bars contain everything you need to perform, with dual-source carbohydrates, essential plant-based proteins, and fibre blended into 7 signature flavours; Ciocco, Avanti, Mocha Protein, Classico, Di Bosco, Forza Protein, and Zenzero.
Each flavour is hand-crafted and based on an ancient Italian fortifier and family recipe. But what exactly goes into them?
As you can imagine, every bar has its own unique list of ingredients. The Forza Protein bar, for example, is packed full of 100% natural, rapidly available carbohydrates such as apricots, orange juice, agave nectar, cane sugar, and honey.
It also contains 12g of complete protein from egg whites and almonds, while fennel is used as a source of manganese, and as an anti-inflammatory for the muscles.
Plus, it's formulated with a 3:1 Carb: Protein ratio to kickstart your recovery.
Meanwhile, the Classico Energy Bar is rich in dual-source carbohydrates to keep your energy balanced and sustained. Candied peels of citrus fruits such as orange and lemon are combined with cane sugar, honey, and orange juice to deliver an instant boost of strength and energy.
Almonds provide essential proteins to repair muscle cells. They are also rich in magnesium, a mineral known to support normal muscle function and combat tiredness and fatigue – making them pretty handy for endurance sports.
The Classico Energy Bar delivers 5g of protein, 7.6g of fat, around 40g of carbs, and 260 calories.
The more astute of you will have noticed that most of Veloforte's bars are plant-powered, but which ones are fully vegan? The Avanti, Di Bosco, Zenzero, and Mocha flavours use only plant-based ingredients.
The Classico and Ciocco bars contain a little honey, while the Forza bar contains egg, so cannot be classed as vegan, but they are Vegetarian.
The Taste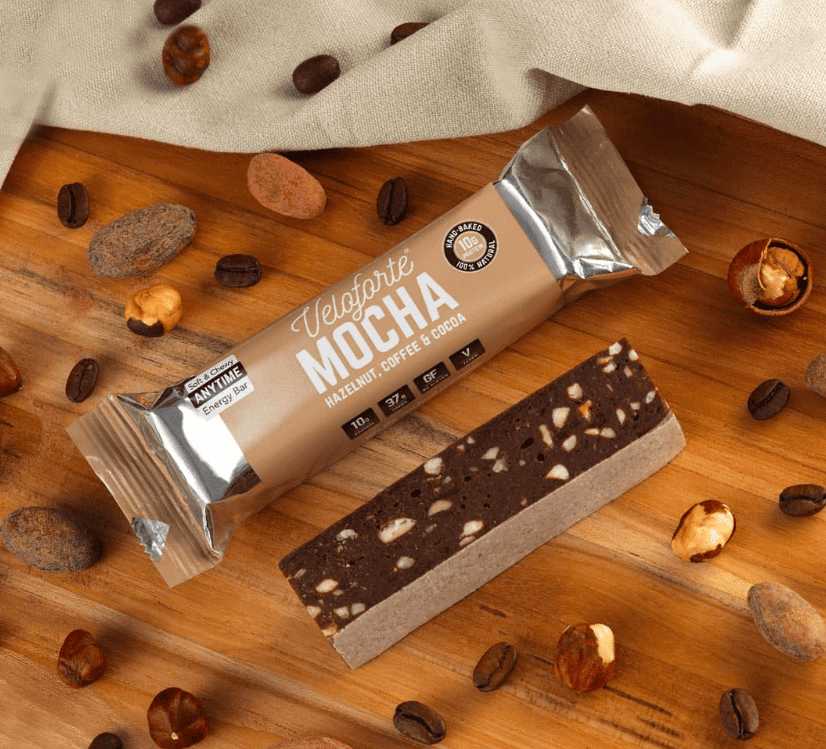 There is, of course, one detail that we haven't yet discussed, and it's a pretty big one – the taste.
It's all well and good something is healthy, but if the flavour isn't there then it's always going to be a challenge to force it down.
But I'm delighted to say that's not the case with Veloforte bars. Each flavour is soft and chewy with a bit of crunch from the nuts for balance.
Because the sweetness comes from natural sources, you aren't left with a horrible synthetic coating in your mouth after eating one, nor do you experience uncomfortable bloating.
In fact, with 26 Gold stars under its belt, Veloforte remains the only nutrition brand in the world to have ever been awarded multiple Great Taste Awards – now 6 years in a row.
If you're yet to try any of the flavours then we'd recommend picking up the Mixed Energy Bars box. Head to Veloforte's website here and don't forget to use our code 'GF30' for 30% off.