United Kingdom – Fitness influencers, health enthusiasts, and anyone on a quest to find the ultimate keto-friendly supplement, rejoice! Hunter and Gather Foods is proud to introduce the all-new Thrive Fuel® Pure C8 MCT Oil – a powerhouse of pure energy that's more than just a supplement; it's the ultimate fuel to thrive for life. 
Crafted with the keto, paleo, low-carb, dairy-free, sugar-free, gluten-free, and plant-based community in mind, this MCT oil is not just another product on the shelf. It is the epitome of purity with simply one ingredient: triple steam distilled coconut MCT oil.
With an unparalleled commitment to quality, Thrive Fuel® Pure C8 MCT Oil is sourced from >98% C8, free of seed or palm oils, and 100% from coconuts. There are no unnecessary fillers, bulkers, or chemical preservatives. Hunter and Gather's MCT oil stands out as an organic, palm oil-free product that doesn't compromise with vegetable glycerols or rapeseed oil, unlike other brands in the market.
But that's not all – for a limited time, Hunter and Gather is offering an unbeatable deal to fuel your wellness journey. Use the discount code GYMFLUENCERS at checkout to slash 20% off your purchase, unlock rewards, and revel in the satisfaction of free U.K. shipping on orders over £30. As a bonus, you'll also enjoy a 3% discount just for signing up, with an additional 5% off waiting to sweeten the deal. And if that wasn't enough, customers spending over £30 GBP can look forward to a special free gift!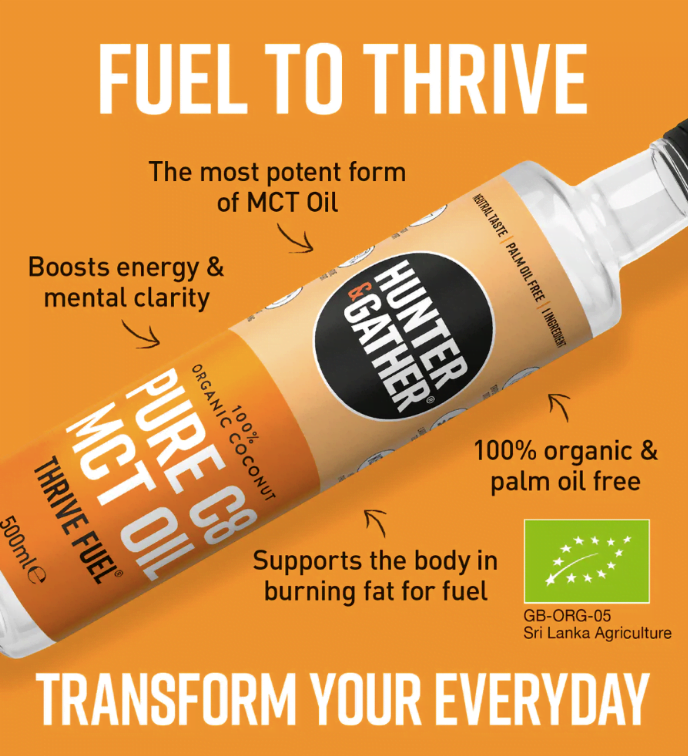 Top health coaches like Kev Mason and renowned personal development coach Roger Snipes are already touting Thrive Fuel® as a staple in their pantries. It's not just an MCT oil; it's a lifestyle choice for those dedicated to maintaining peak performance throughout their day.
Choose to subscribe and save 10%, with the convenience of having Thrive Fuel® delivered every 4 weeks directly to your door. Subscribers also enjoy 10% off subscription products, with the flexibility to skip or cancel anytime, and the added perk of bonus loyalty points.
Don't just take our word for it – the customer reviews are in, and they're glowing. Sharon from Milton Keynes says she's noticed a difference in energy levels and overall well-being since making the switch to Thrive Fuel®. Elizabeth found that adding MCT oil to her coffee gave her more energy and a general sense of feeling better.
Ready to transform your diet and energy levels? Fill your cart with Hunter and Gather's Thrive Fuel® Pure C8 MCT Oil and experience the difference today. Shop now, and don't forget to use the code GYMFLUENCERS for your exclusive 20% discount. This is more than just a product; it's your new secret weapon in the pursuit of health and vitality.
Visit the Hunter and Gather website here now to shop.