We're back again with another review and this time we're sampling Mighty M.LK Original. Pea protein is rapidly becoming a popular ingredient among nutrition companies as they look to move away from solely relying on soy. And Mighty M.LK has harnessed the power of the pea to create a high-protein fully vegan dairy alternative. However, while plant-based milk is great for teas and coffees, it can often leave a bitter taste when mixed with a bowl of your favourite cereal. That's where we come in. We've gulped, eaten and slurped our way through a carton to find out whether it is worth the hype, and ultimately worth making the switch from your usual go-to.
About Mighty M.LK
Before we take a deep dive into the product, let's dig a little deeper into the company behind it, shall we? A real family affair, Mighty was founded by brothers Tom and Nick in 2018 to "shake up" the market with a more sustainable vegan milk. On a mission to make the world more responsible for what they consume, the duo now have one of the biggest independent plant-milk businesses in the UK – but they aren't stopping there. Their goal is to switch one million people to plant milk. Thanks to a unique blend of peas and fermented oats for a milk-like taste, the MIGHTY range of non-dairy kinds of milk is growing in popularity and choice all the time. But how good is it?
Trying to get Mighty M.LK Original
Mighty's products are now available in more than 5,000 stores in 12 different countries across the UK, Europe and Asia – another positive sign for the ever-growing vegan movement. But, the obvious caveat is that it'll still be slightly more tricky to get your hands on a carton than popping to the corner shop to pick up a pint of milk. I ordered myself a litre straight from the website, and in a speedy two days, it had arrived at my door. At £2.99 plus delivery, it certainly wouldn't be considered cheap. But if you consider the premium currently placed on good quality sources of vegan protein, it doesn't seem all that bad.
Is Mighty M.LK Original nutritious?
You bet it is. Packed with pea protein isolate and natural sweeteners which include grape juice, Mighty M.LK Original provides 24g of healthy protein per carton. That breaks down into 2.4g per 100ml, only slightly less than your standard dairy alternative. But what about the calcium, I hear you say? Fear not, the product is fortified with calcium as well as Vitamin D, Vitamin B12 and Iodine for good measure. The sugar and fat content is also fairly standard, offering 2g and 1.9g per 100ml respectively.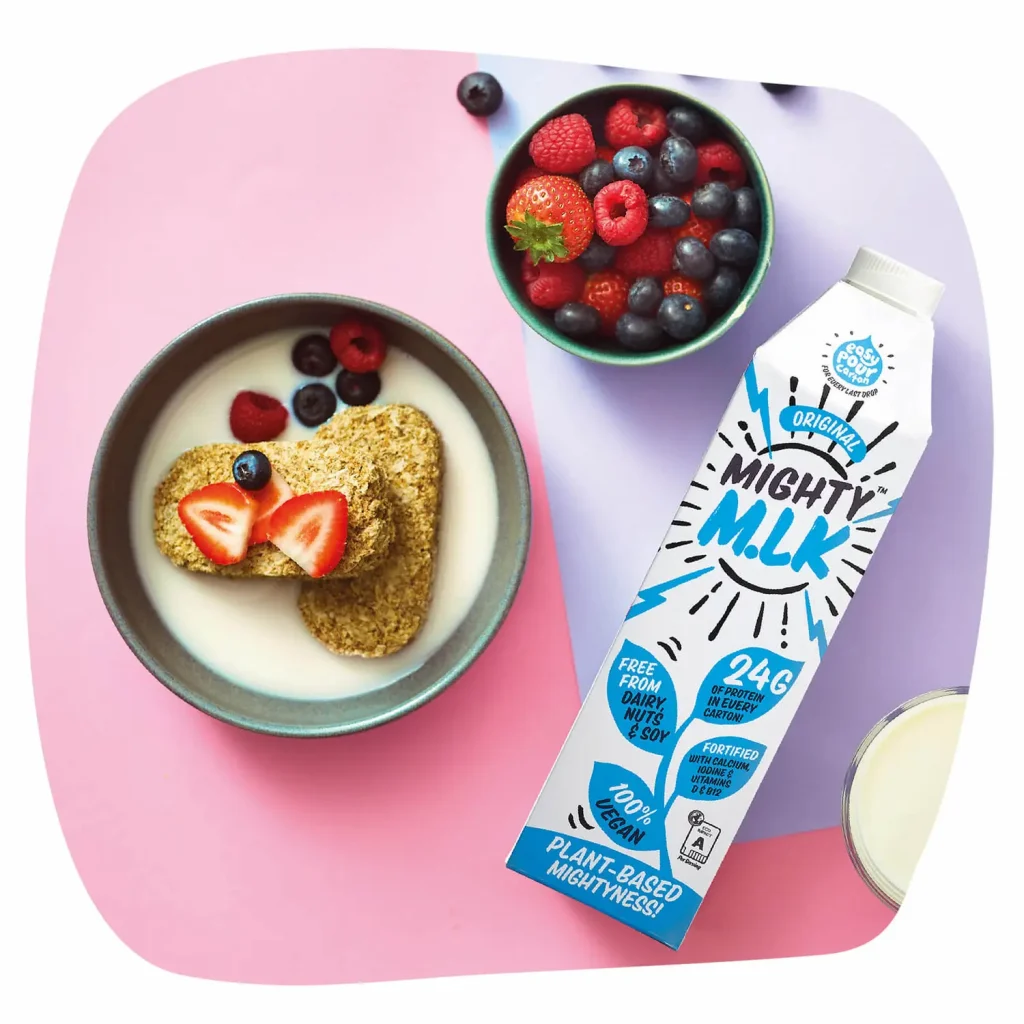 Mighty M.LK Original review
Taste: 7.5/10
As vegan milk goes, this one is great. In the interest of fairness, I tried the product in a bowl of cereal, a coffee and straight from the carton (don't judge me), and I enjoyed it every time. For me, the fact that I liked it straight is perhaps the biggest indicator of what a fantastic alternative this is. Many plant-based kinds of milk you can grab in the supermarket would be almost impossible to neck with making you wince. Those who have played the field will know all too well there's often an earthy undertone, especially when oats and peas are involved. And while there was a slightly granular aftertaste to this one, it was largely masked by a pleasant understated sweetness.
Texture: 7.5/10
The texture gets a similar score as I feel it has a comparable balance of strengths and weaknesses. For me personally, watery milk is a nightmare – I just don't see the point. So, the fact this had some substance to it was a real bonus. However, the creamy coating in my mouth was, at points, disrupted by what I can only assume were tiny specks of the pea protein blend. It wasn't a big deal by any means, but something to bear in mind.
Appearance: 7.5/10
A clean sweep. Starting with the packaging, this product looks great. The branding is spot on and the carton is covered with handy graphics which tell you some of the environmental benefits of going green. It certainly wouldn't look out of place in the hands of a hipster barista brewing coffee in the Brighton lanes. The milk itself is slightly darker in colour, but no more than standard oat milk. If you're switching to this product from dairy milk, just be aware it'll look a tad different than what you're used to.
Discount
Use our M.LK Discount Code GF20 to save 20% off all purchases Here.