JSHealth's best-selling Detox and Debloat formula helped me say goodbye to uncomfortable abdominal swelling, and here's how.
I live for food. As those who know me will attest, I'm a self-confessed foodie who gets embarrassingly excited when it comes to mealtimes – especially when one of my favourites is on the menu.
However, for as long as I can remember I've had that daily joy dampened by the knowledge that shortly after I eat, I'll experience an unbearable balloon belly that will leave me looking and feeling sluggish.
My search for a solution led me to JSHealth's Detox + Debloat formula. It was listed as a fan favourite on the website, so I wanted to find out what all the fuss was about. 
In this article, I'll be taking a closer look at this transformative product that's loved by so many users, and giving you my honest opinion on whether it's worth all the hype.
Before we go any further, it's probably worth mentioning that you can get an incredible 20% off when you use our JSHealth discount code 'UKGF20' at the checkout.
JSHealth Detox + Debloat
If you aren't familiar with JSHealth, where have you been? The brand was launched in 2018 by three-time best-selling author Jessica Sepel and her husband.
Jessica, who has devoted her life to expanding her knowledge of holistic health, wanted to create products that would assist people in reclaiming their well-being and cut through the minefield of meaningless jargon that's become commonplace in the supplement space.
That's why each one of JSHealth's formulas tackles recurrent pain points in a simple, accessible way. Even the names of the products themselves have been simplified to get right to the point.
So, there are no prizes for guessing what the Detox + Debloat blend does. The formula has been designed to support healthy digestion, reduce abdominal bloating, and aid the body's natural detoxification process through the use of Western herbal medicine.
How? To answer that question, we'll need to take a look at some of the key ingredients.

Fennel Seed
Fennel has been traditionally used to support digestive health and alleviate bloating and discomfort.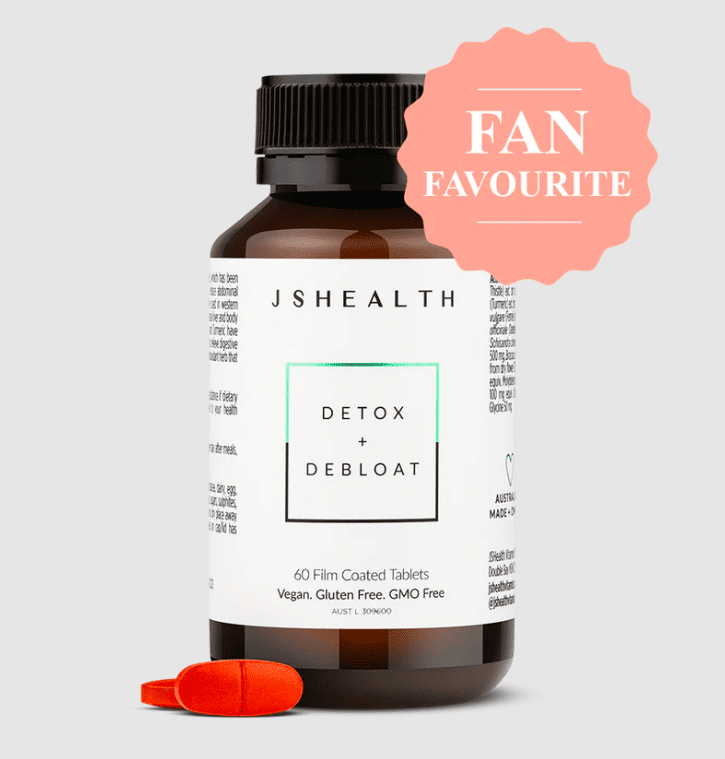 Turmeric
Known for its anti-inflammatory properties, turmeric may help reduce inflammation in the digestive system and support overall gut health.
Milk Thistle
Milk thistle is often used for its detoxifying properties, helping to support liver function and assist in the elimination of toxins from the body.
Globe Artichoke Leaf
Globe artichoke leaf extract is believed to promote healthy digestion by stimulating bile production, which aids in the breakdown of fats.
Celery Seed
Celery seed extract is rich in antioxidants and may assist in reducing inflammation and supporting healthy digestion.
Dandelion
Dandelion has long been used as a natural diuretic and may help reduce water retention and bloating.
Burdock Root
Burdock root is known for its detoxifying properties and may assist in eliminating toxins from the body.
Ginger
Last but not least we have Ginger, which has been used for centuries to support digestion and alleviate bloating and nausea.
All these natural ingredients have been carefully selected to work synergistically and provide a comprehensive approach to detoxification and debloating.
So, if you find yourself nursing a pop-belly after eating, or you find yourself running to the toilet at short intervals, then this product should help you kiss goodbye to discomfort.
Plus, it's super simple to use. Take one tablet twice daily with a glass of water. It's worth noting, however, that this supplement, or in fact any supplement, won't magically fix your issues if you don't follow a balanced diet in tandem.
While it will undoubtedly help, taking a holistic approach to your well-being means taking care of all aspects of your health.
Conclusion
Once everything is aligned, the results will speak for themselves, and JSHealth's Detox + Debloat will become an important cog in the well-oiled machine that is your body.
If you're ready to put digestive discomfort firmly behind you then head to JSHealth's website. Be sure to use code 'UKGF20' for 20% off.