Amidst the waves of technological evolution, one innovation is setting new standards in the fitness realm: the Magic AI Home Gym Mirror. With the rise of home fitness enthusiasts seeking efficient solutions, this smart mirror is arriving right on cue.
Delving Deeper: The Magic AI Mirror's Distinctive Features:
Elite Training, No Commute: Why settle for average when you can have the best? The Magic AI Home Gym Mirror brings world-renowned fitness trainers straight into your living space.
A Leap Beyond Conventional Training: Claiming superiority over traditional personal trainers, the Magic AI Mirror offers instantaneous strength training feedback. This ensures users experience not just motion, but tangible progress.
Form Perfection in Real-Time: The mirror acts as your diligent fitness coach, providing immediate corrections to your form, merging the precision of technology with human touch.
Spot-on Motion Analysis: Every stretch, squat, and lift is under the mirror's scrutiny. From perfecting your positioning for ultimate muscle engagement to analyzing your movement range, it's all about optimizing your effort.
Dedicated Focus on Every Lift: The mirror ensures that your workouts aren't just about quantity but quality. It offers personalized guidance for each rep, guaranteeing enhanced results.
The Genius Behind the 'Magic Smart bells': The age of cumbersome weight sets is behind us. The groundbreaking 'Magic Smart bells', proprietary to the Magic AI, offer a weight range from 2kg to a whopping 64kg, all with an effortless handle twist.
Adaptable & Space-Efficient Design: For those worried about space constraints, the Magic AI Home Gym Mirror brings a dual solution: a multipurpose incline bench. Easily adjustable to five positions, it's designed for efficient storage, folding flat when idle.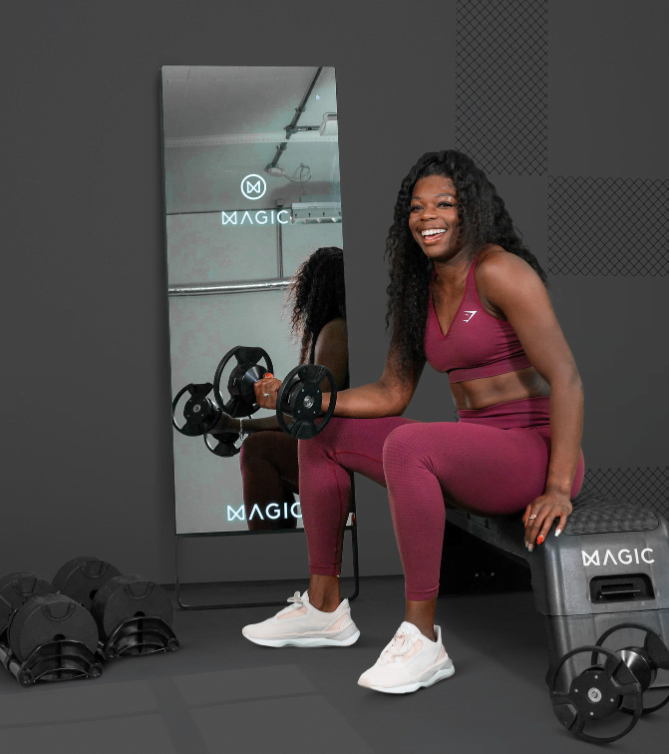 Exclusive Deal Alert: For our dedicated readers eager to transform their fitness game, here's a treat. Avail £150 OFF on the Magic AI Mirror Gym with our exclusive Discount Code GF150.
Step into the future of home workouts. The Magic AI Home Gym Mirror is not just a tool—it's your partner in achieving unparalleled fitness results.