EVERY FRACTION OF EFFORT IS AN ADVANTAGE. The .001 Brand Positioning & Philosophy.
This is the basic principle behind performance activewear brand .001 (Point Zero Zero One):
Whether it's an extra rep in a gym session or adding the next lamppost on a run – marginal gains make all the difference in achieving goals – whether you're competing against yourself or aiming to be the best in the world in your chosen fields and outside of sport, 'one small step at a time' is also a truth in life.
.001 is an independent UK business run by a small team with extensive experience across sport and sportswear / streetwear design and manufacturing who have put immense focus into the .001 brand positioning & philosophy of the company.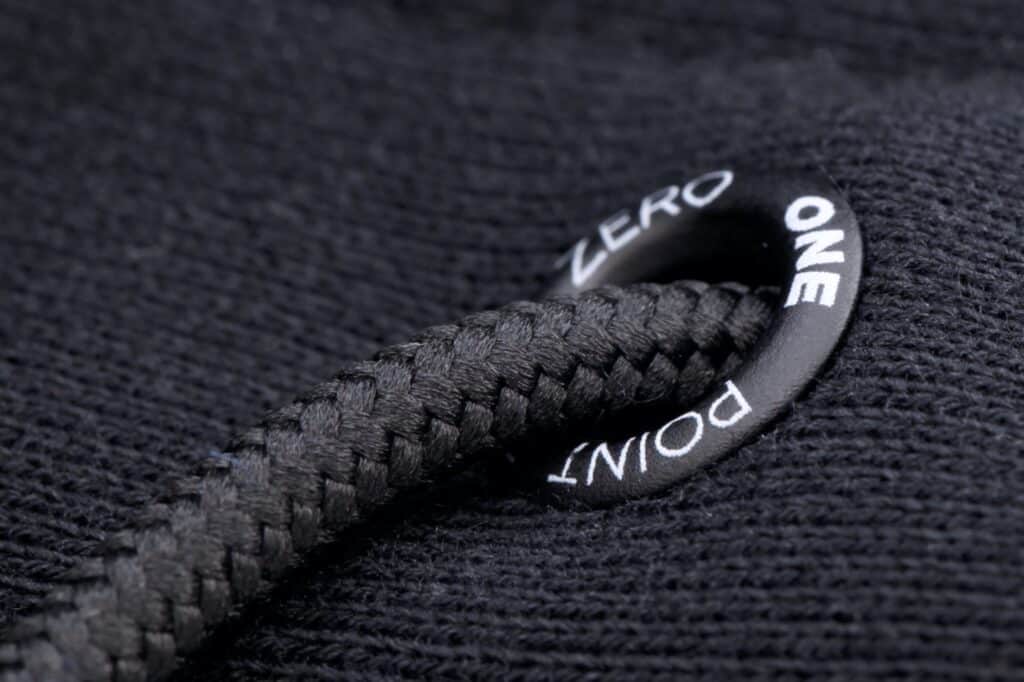 The brand is inspired by motorsport – its commitment to innovation and improvement, and passion for style and excitement, motorsport is the partnership between sporting and technological excellence – where every .001 of a second counts.
A world that knows how to win
Winning is hardwired into our psyche
Wins can be big or small – team or individual

Winning is about advancement, those extra fractions of effort and keeping the promises you make to yourself – as much as being no.1.
.001 sets out to give people the inspiration and confidence to 'win', whatever that win may mean to any individual. The brand celebrates ambition, dedication and hard work – pushing limits – going beyond, and you don't have to be a motorsport nut to buy into that – it's universal.
Essentially the .001 brand positioning & philosophy is about performance, and motorsport epitomises physical and technical effort.
GOOD USE OF RESOURCES
As a self-funded brand the range is small – just what you need and no more and the palette is purposely monochrome – recognising almost 60% of people prefer a dark solid colour to colours and patterns and designs that look good over time and not being influenced by 'fashion' seasonality.
Durable, long lasting, comfortable garments with each piece is a unique design, created from scratch, developed, sampled and then further developed – rather than buying product off the shelf and simply overprinting a logo on it. The .001 range currently consists of functional performance wear and more leisure / activewear pieces.
Even though products have been specifically designed with gender in mind (women's / men's frames), many of the pieces are actually gender neutral and the brand sees men buying the Women's Oversized Hoodie for the extra length it gives, and women buying the Men's Crew Sweat for its fit and comfort:
Women's Performance Sportswear
PRODUCT PERFORMANCE
And 'extra effort' is the guiding principle when it comes to the products .001 designs and products – the very best quality fabrics, unique long-lasting designs, attention to detail and production craft to guarantee comfort and durability – plus parity between women's and men's prices for similar pieces.
Fussing over the smallest of details and choosing good quality trims even at the expense of profit to keep the prices competitive. But long term the brand sees itself as a 360-degree performance brand for the body and mind – almost a tech brand rather than apparel alone – but with apparel at its core.
As members of the Silverstone Technology Cluster .001 is exploring leading edge wearable tech and smart fabrics – alongside engineering solutions for packaging and products with sustainability in mind.
To date it has a collaboration with Vorteq / Total Sim a fluid dynamics company for wind tunnel tested aerodynamic cycling skin suits and overshoes that utilises data from a high-definition 3D scan of body geometry whilst sitting on a bike.

The third key pillar for .001 is mental fitness and recently the brand has been developing a series of mental fitness tutorials with the help of a thought leading psychologist – using insight from the high pressurised world of motorsport and applying that to everyday life, helping overcome obstacles, teamwork, goal setting etc.
When asked about the .001 brand positioning & philosophy owner Justin Cernis explains:
"It's all about connected performance – body, mind, data, attitude, performance wear – each element contributing to a more powerful, successful outcome"
"But I'm passionate and fascinated about sports brands – as a kid I coveted a pair of adidas football boots and to buy them I had to do lots of local errands, clearing gardens, washing cars, a paper round etc – I had a real emotional and physical connection with the adidas brand"
"Later on in life I was privileged to work with adidas internationally and met Adi Dassler's son Horst on a number of occasions, and aside from the functional performance 360-degree connectivity of .001's product range, I want us to be authentic and connected to our customers emotionally too"
"That for me is the most important thing"
"If we can continue to produce quality product at an affordable premium price and make people feel good about our brand – then that is the big win for us"
"We're in it for the long term and recognise there are no quick fixes to getting it right – we'll continue to make mistakes along the way and learn from those – to get better"
To support a developing relationship with GymFluencers x .001 are offering a 30% limited introductory saving across the range by using code GF30 at checkout.
A sneak peak… Gymfluencers have received exclusive drawings of future products that .001 will be adding to their catalogue. .001 brand positioning & philosophy shared images: