If you've been considering taking a collagen supplement then you might be wondering which one to go for, and whether or not any of them are actually as good as they say they are. We've tried a few different collagen supplements between us here at Gymfluencers, and one of our favourites is from the wellness and nutrition brand Feel.
Feel Pro Collagen Gel Review
Why? Well, it tastes great, is incredibly easy to fit into your daily routine, and really makes a difference in the look and feel of your skin.
Need a few more details? Then keep reading for our full, honest Feel Pro Collagen Gel supplement review. 
The Pro Collagen Gel from Feel is just what it sounds like; a collagen supplement in the form of a gel. It comes in individual 50g sachets, so all you have to do is tear open the top and squeeze it out.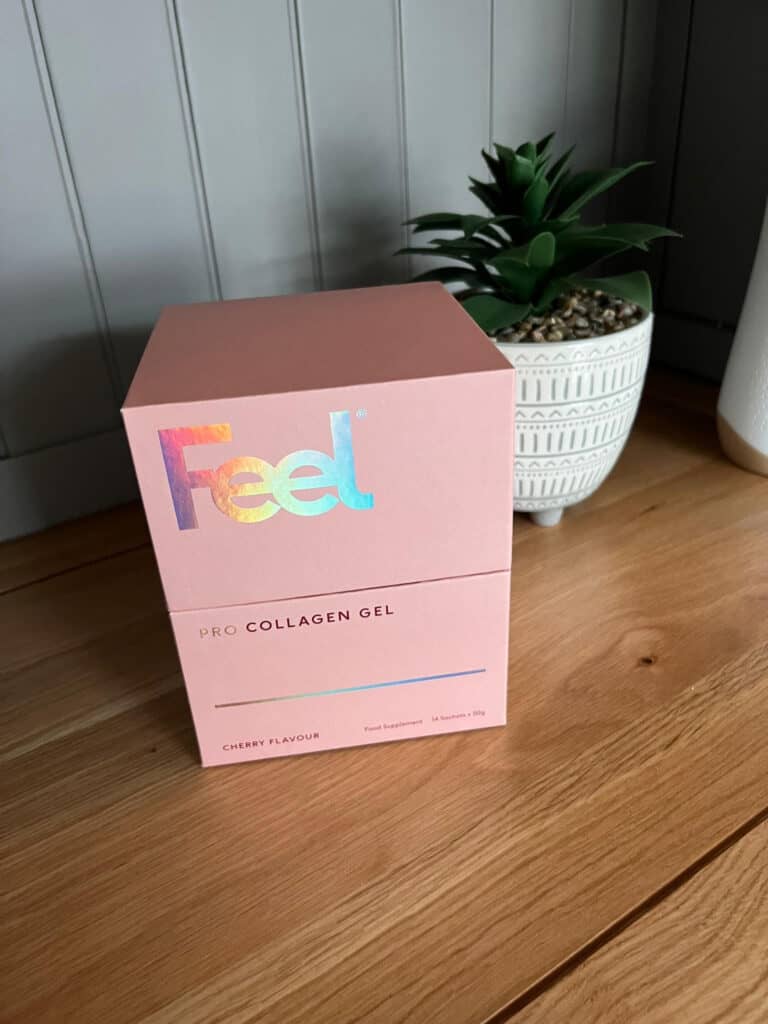 The gel has a delicious cherry flavour and is vegan, with no artificial sweeteners, colours, or flavours. It's also gluten-free and allergen-free. We love how easy it is to take this supplement; there's none of the faff that you get with collagen in powder form and you can take it on the go which is brilliant for anyone who finds themself rushing out of the door in the morning.
More than that though, we love all the skin-boosting ingredients in Feel Pro Collagen gel.
First of all, obviously, there's collagen. Feel use vegan collagen called VeCollal instead of marine or bovine collagen, because it contains all the essential amino acids that we need for collagen production, is metabolised more easily by the body than marine or bovine collagen, and is a more ethical alternative.
Feel Pro Collagen Gel Benefits
Studies showed that taking VeCollal increases collagen production in the body by an impressive 135%, with collagen production in cells doubling in 2 days. And 80% of the people studied saw a significant improvement in their skin's elasticity, hydration, and suppleness in just 28 days.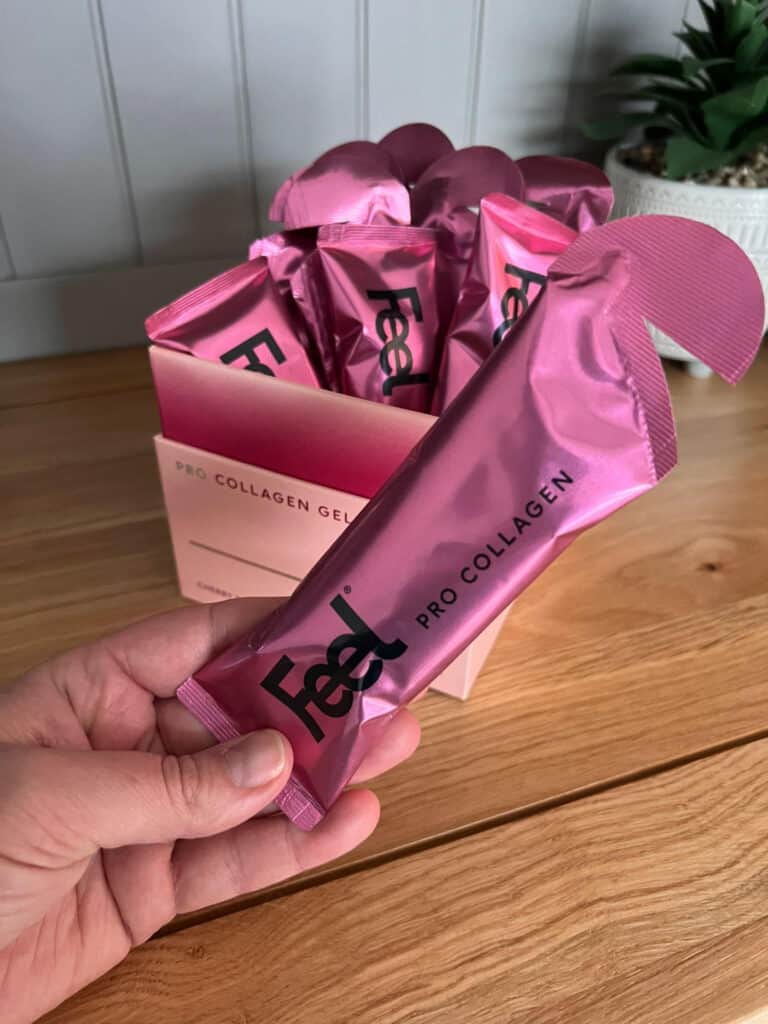 That's not all though. Feel's Pro Collagen gel also contains:
Gotu Kola, a herb that's been used for centuries for skin healing, which works to stimulate collagen production in the body and helps to protect our skin cells against oxidative damage and to even out skin pigmentation
Vitamin C, which plays an essential role in promoting collagen formation and helps to protect against dry skin
Biotin, also known as Vitamin B7, which stimulates Keratin production for strong, healthy hair
Vitamin A, an antioxidant that supports the overall health of the skin and works to support a more even complexion
Panax Ginseng, which is thought to help restore elasticity to the skin and promote collagen production
Vitamin E, which works hand in hand with Vitamin C for optimal defence against oxidative stress.
The powerful combination of these natural ingredients works to boost collagen production in the body, which naturally starts to slow down from around the age of 20.
Why is it so important to boost collagen production? Well otherwise, as we age, the reduction in collagen in the body leads to stiff, sore joints, and signs of ageing in the skin like wrinkles, fine lines, dryness, and sagging.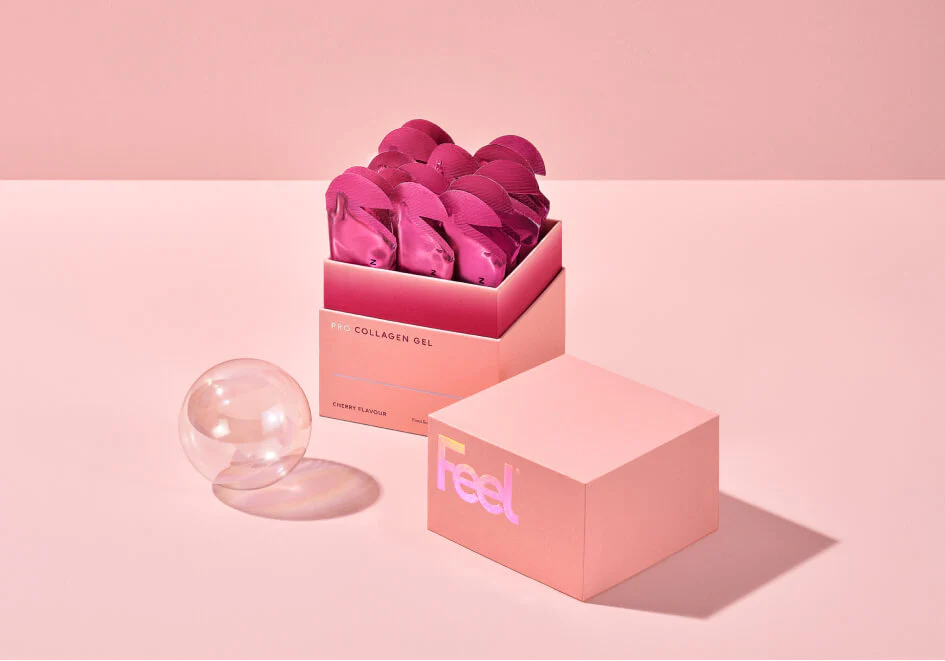 So taking Feel Pro Collagen Gel helps to keep your joints healthy and your skin looking beautiful as you get older. You do need to take the supplement for a few weeks to really start to see the benefits but once you notice the improvements in your skin you'll understand why we love it so much.
It really works to slow down those first visible signs of ageing in the skin, reducing the appearance of those fine lines and wrinkles, and leaving your skin glowing and hydrated.
Taste
And when it tastes this good and is this easy to take every day, why wouldn't you start taking it now to keep your skin looking gorgeous no matter how old you are!
You can sign up for a subscription with Feel and get a box of the sachets delivered to your door at a frequency that suits you, so you never have to worry about running out.
20% Off Discount
If you just want to give it a try for yourself first you can get a box of 14 sachets of Feel Pro Collagen Gel for £36.76 as a one-off purchase, but you can save an awesome 20% off that price when you use our discount code 'PARTNER20' at the online checkout Here.