Whether you're just starting out as an online fitness coach or you've been in the game for a while, chances are you're always looking out for ways to make your business more efficient, more profitable, and the best it can possibly be for you and your clients.
Lucky for you, we're here to help!
We've gathered together our online fitness coach must-haves – the apps and products you need to take your business to the next level.
Weekmeals
As an online fitness coach one of the most important things you can do for your clients is to help them create a healthy and sustainable diet. But creating meal plans can be time-consuming and challenging, especially when you have loads of different clients to work with.
That's where Weekmeals comes in. Weekmeals is a meal planning and tracking app that makes it easy for online fitness coaches to create personalised meal plans for their clients.
With Weekmeals, you can define your client's macros and quickly and efficiently create custom meal plans based on their individual needs and goals. You can onboard and manage multiple clients within the app, while still giving each person their own unique meal plans that are healthy and delicious, with over 450 recipes for them to choose from.
We love the fact that you can customise the Weekmeals app to fit your business by adding your brand colours and logo. And once you've got it all set up it really does make helping your clients with their meals and their nutrition so much easier.
They'll love how straightforward the app is to use, and having their meals planned out for them so they know exactly what they need to be eating each day will have a big impact on how likely they are to actually reach their fitness goals.
And if all that isn't enough, if you sign up with our referral link you can nab yourself a £50 Amazon voucher as a little welcome bonus!
Forme CoBranded Protein Shaker
Another key factor as an online fitness coach is finding ways to keep your clients motivated and engaged. One great way to do this is to give them rewards when they hit certain goals or milestones.
And we reckon that Forme CoBranded Protein Shakers make the perfect reward!
Forme protein shakers are made with high-quality materials and are super stylish and functional. They come in a few classic, subtle colours, so you can choose one that fits your brand perfectly. And when you get them co-branded, your clients will be reminded of your coaching business every time they use it.
Here are just a few of the reasons why the Forme CoBranded Protein Shaker is a must-have for online fitness coaches:
It's durable. The Forme Protein Shaker is made with high-quality materials and has a stainless steel body that keeps drinks cold for up to 12 hours. This means that your clients can use it over and over again, which will help to keep your brand top of mind.
It's easy to use. The shaker is designed to be simple and easy to use, with an awesome silent shaker mechanism that mixes up protein shakes quietly and efficiently.
It looks great. The sleek design of the shaker looks fantastic, and when you get them made up with your logo on them it'll really help your clients feel like they're part of a community (it'll also help to promote your brand too!).
So if you're looking for a way to motivate your clients and keep them engaged, the Forme CoBranded Protein Shaker is the perfect solution.
Just remember to use our discount code GF20 when you order your shakers to save 20%!

Built For Athletes Backpack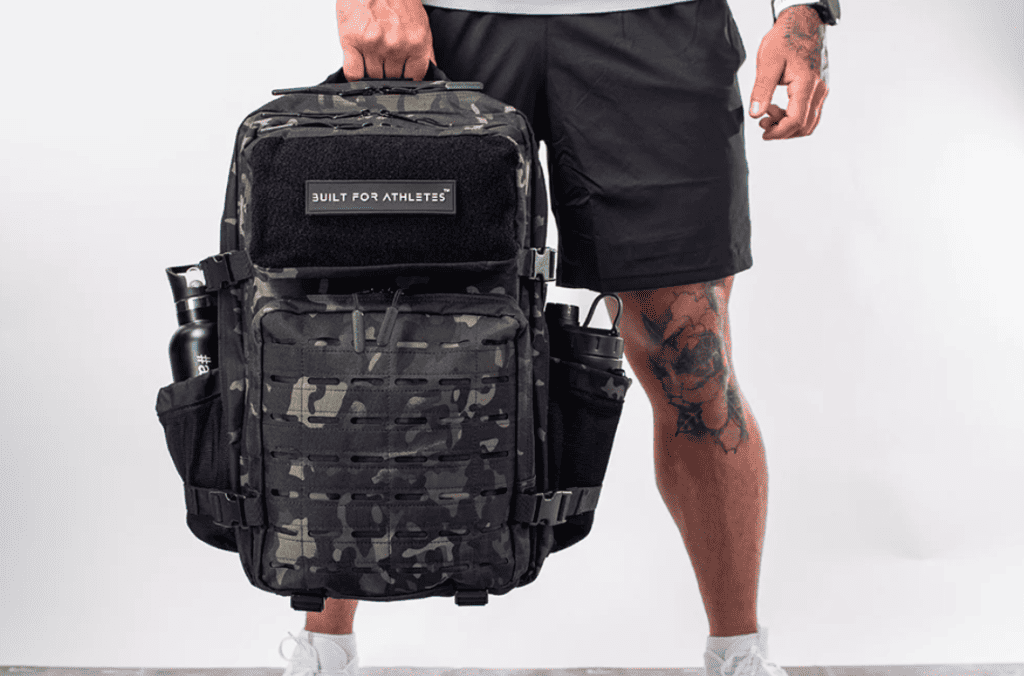 Make sure you look the part every time you hit the gym with a Built for Athletes backpack.
Built for Athletes backpacks are designed specifically for fitness professionals. They're durable, stylish, and spacious, so you can easily carry everything you need to a workout or a client session.
They're perfect for online fitness coaches who want to present themselves as professionals when they hit the gym because they look great and help you look like you've got it all together while keeping all your kit together.
These bags are super spacious, so you can easily carry everything you need to a workout or a client session, including your workout clothes and shoes, and even your laptop.
So if you're looking for a durable, stylish, and spacious backpack that can help you look professional and stay organised, then a Built for Athletes backpack is the perfect choice for you.
Best of all, you can save yourself 15% off your brand new backpack by using our discount code GYMFLUENCE15 at the online checkout.
Gymfluencers Agency
One of the smartest things you can do as a business owner and entrepreneur is diversify and build multiple income streams.
Of course, we might be a bit biased on this one, but we think one of the best side hustles you can start as an online fitness coach is building your online following and working as a fitness influencer, with the help of our very own Gymfluencers Agency.
When you sign up with the agency you get access to collab offers from brands you know and love, gifted and paid opportunities, and even help from us to grow your following and open the doors for even more paid work.
It costs just £29.99 for the year to sign up to Gymfluencers agency, and you can make that back in no time once you start working with brands.
As an online fitness coach chances are you already spend a fair bit of time on social media, talking up your business and educating your clients and followers on fitness and nutrition, so why not go all in and use that platform to make yourself some extra cash!
Supply Life: Intolerance tests
One of the key factors in helping your clients reach their fitness goals is understanding their individual needs. That's where Supply Life intolerance tests come in. 
These tests can help you identify food sensitivities and intolerances that may be holding your clients back from reaching their full potential.
Supply Life intolerance tests are easy to use and can be done at home – all you need to do is a simple pin prick to collect a blood sample which then gets sent off to be analysed.
Once your client has their results you can work together to create a personalised fitness and nutrition plan which takes their food sensitivities into account. Giving them a plan that is really tailored to their individual needs can be a huge step in helping them to reach their goals faster and with less frustration.
As an online fitness coach, you should absolutely check out Supply Life intolerance tests and consider adding them to your arsenal of tools for helping your clients reach their fitness goals and improve their overall health.
Make sure to use our discount code GYM10 at the online checkout to get 10% off your order of Supply Life tests.