Hey there, fellow wellness warriors! I'm Jessica, a 25-year-old fitness enthusiast who hits the gym about 4-5 times a week. Like many of you, my fitness journey isn't just about the time I spend sweating it out in the gym, but also about what I fuel my body with. Today, I'm sharing my experience with the Vitl Female Multivitamin, a product I stumbled upon in my quest for an easy, comprehensive supplement option.
Background: The Search for Simplicity
Navigating the complex world of dietary supplements is no easy feat. Trust me, I've been there! With so many options available, and all of them claiming to be the best, finding a product that genuinely covers all your bases can feel like searching for a needle in a haystack.
After committing to a rigorous fitness routine, I felt like my diet, despite being clean and wholesome, might be missing out on some essential nutrients. I wanted something that wasn't just a band-aid solution, but a supplement that would complement my active lifestyle by providing holistic nourishment.
First Impressions: Packaging & Ingredients
Vitl's clean, sleek packaging caught my eye instantly. The brand conveys transparency, and a quick glance at the ingredients list reinforced this impression.
Beta-carotene, Biotin, all the essential B-Vitamins, Iron, Zinc… the list goes on. I was particularly impressed with the inclusion of Vitamin D3, something we notoriously lack, especially if you're like me, and spend more time indoors or in gyms rather than basking in the sun.
The fact that these multivitamins were vegan and non-GMO was an added bonus. But what truly won me over was their commitment to purity – no fillers, no artificial colors, and absolutely no preservatives.

Usage: Experience & Effects
Taking the Vitl Female Multivitamin became a part of my morning ritual. The capsules were easy to swallow and didn't leave any unpleasant aftertaste, which I've found to be a common issue with many other supplements.
About two weeks into taking these, I began to notice subtle yet significant changes. My energy levels seemed more consistent throughout the day. The dreaded 3 PM slump that many of us experience became less pronounced. While my gym routine was already energizing me, the multivitamin seemed to add an extra layer of vitality.
My skin, hair, and nails, which were already in a relatively good state due to my diet and fitness regimen, began to exhibit an extra glow. I received several compliments about my hair looking shinier and my skin clearer.
However, the most noteworthy change was my recovery post-workout. My muscles felt less sore, and I woke up feeling fresher and more rejuvenated the next day, even after intensive training sessions.
Price Point & Discounts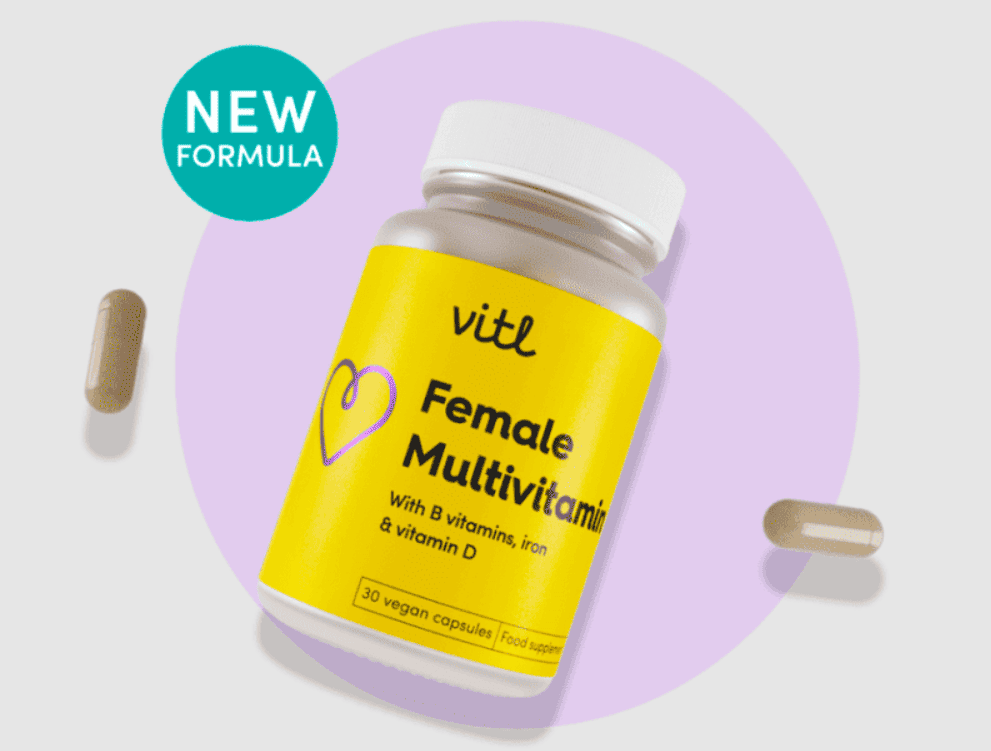 At £9.99 for a one-off purchase, the Vitl Female Multivitamin is competitively priced, especially considering the rich array of ingredients. Plus, with the 20% off discount code 'GFVITL20', it felt like a steal!
The Verdict
For active women like me, who are constantly juggling work, personal commitments, and fitness goals, the Vitl Female Multivitamin is a boon. It's not just about the convenience of not having to take multiple supplements, but also the assurance that you're fueling your body with high-quality, pure ingredients.
The noticeable differences in my energy levels, skin, hair, and recovery times post-workout make it evident that this product isn't just about fancy labeling but delivers genuine results.
In conclusion, if you're on the lookout for a supplement that's comprehensive, clean, and effective, the Vitl Female Multivitamin might just be what you need. I'm two months into using this product and have every intention of continuing. For someone as discerning and meticulous about their health as I am, this multivitamin has proven to be an invaluable addition to my wellness regimen. So here's to simpler choices that lead to a healthier life!
Visit the Vitl website here to buy this amazing multivitmain. Don't forget to use GFVITL20 for 20% off your purchase.