Hey there, Gymfluencers fam! If you're anything like me then you're always on the hunt for the next big thing in gym nutrition. Guess what? I've got a scoop (literally) for you: MyProtein's Vimto Clear Whey Isolate. Let's dive deep into this throwback treat that's got my taste buds and muscles both doing a happy dance.
First up, can we just take a moment to appreciate this collab? MyProtein and Vimto®? Genius. Every time I take a sip, it's like a trip down memory lane. Remember those summer days, hanging out with friends, sipping on some Vimto? Yeah, it's like that, but with a protein-packed twist. I'm just gonna say it. Milky protein shakes can be heavy sometimes. Enter MyProtein's Clear Whey. This award-winning shake is a game changer. It's like sipping on a refreshing fruity drink, except it's loaded with 20g of high-quality hydrolysed whey isolate. For gym enthusiasts like us? It's a match made in muscle heaven.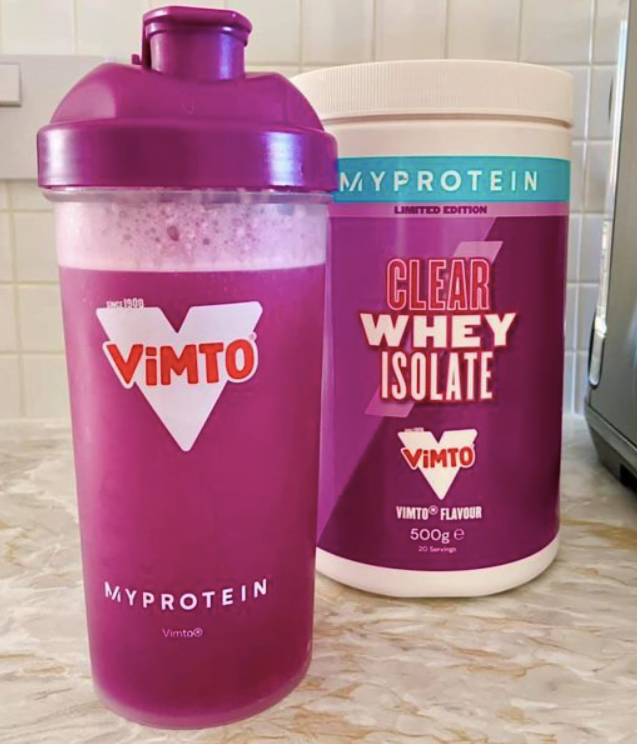 Let's talk nutrition. We're rocking the limited-edition Vimto® flavour (I mean, come on! ), it's packed with real fruit juices, a solid 20g of protein to help those muscles pop, no added sugar, and clocks in at just 89 calories per serving. Plus, this beauty won 'The Best Sports Nutrition Product' in the European Specialist Sports Nutrition Awards in 2019. And trust me, it lives up to the hype. Now, this ain't just about gains; it's a flavour fest too. The Vimto Clear Whey tastes divine. It's both nostalgic and refreshing. And mixing? Easy-peasy. One scoop (26.1g), 300-400ml cold water, give it a good shake, let it settle, and voila! A colourful, translucent protein drink that's a treat for the eyes and muscles.
The only slight bummer? This flavour won't last forever. It's a limited edition, folks. So, if you're keen, grab it before it's gone.
To wrap this up – if you want a trip down memory lane, some solid muscle support, and a change from the usual protein shake routine, the Vimto Clear Whey Isolate is your jam.
And because I've got your back, use our exclusive MyProtein discount code MYPGYM to get a sweet 38% off. Let's get those gains and relive some childhood memories, shall we? Catch you at the squat rack! Visit the MyProtein website here now to shop.