The supplement world is becoming increasingly competitive and is full of brands promising the best products, so here at Gymfluencers we have found you the top 10 protein powders that you NEED to try & will love.
It's safe to say that we have tried and tested a lot of protein powders over the years with some being incredible and that we still use but others tasting like chalk, not mixing well, being a complete rip off and also some that don't exactly disclose their entire ingredients list. We work with many top supplement companies directly such as CNP, Efectiv, MyProtein, Grenade and many more and what we are finding now is the passion behind the ingredients, sustainability and where the protein is coming from.
In this top 10 protein powders that you NEED to try & will love review piece we have included regular protein powders, WHEY protein, clear Whey and a couple of curve balls such as protein collagen and of course a couple plant-based proteins. Plant-based protein is the largest growing market in the supplement industry with TB12, Feel, Bulk and many others really pushing that pea protein is better than traditional whey. We have not separated these protein sources as this is an overall review so this is a review for all readers no matter what your dietary requirements are.
When looking at the the best protein powders we consider:
Price
Taste
Company ethics
Sustainability
Grams of protein per serving
Calories
Branding
Choice
With that being said and being in no particular order here are our Top 10 Protein Powers that you NEED to try and will love are:
1. Efectiv Nutrition Biscuit Spread Flavour Whey Protein Powder.
2. Ghost Lifestyle Cereal Milk Whey Protein Powder.
3. Myoband Oblivion Plus Hydrolysed Protein Powder.
4. CNP Salted Caramel Whey Protein Powder.
5. Feel Clear Vegan Orange & Mango Whey Protein Powder.
6. Alpha Lion Superhuman Hulk Milk Whey Protein Isolate.
7. Grenade Hydra 6 Killa Vanilla Protein Powder.
8. Protein World Chocolate Mint Whey Protein Concentrate.
9. Ghost Lifestyle Oreo Whey Protein Powder.
10. Ambrosia Collective Planta Banana Maple French Toast Premium Plant Protein.
Efectiv Nutrition Biscuit Flavour Whey Protein Powder
Efectiv Nutrition is based in East Yorkshire and was founded in 2013 by Bosy Temple wholesale to then be acquired in 2018 by the current owners Peak Distribution. Currently sponsoring and endorsing strongman Graham Hicks it's a brand that is pushing the envelope in 2022 by providing it's customers with the highest quality products, recipes and accessories.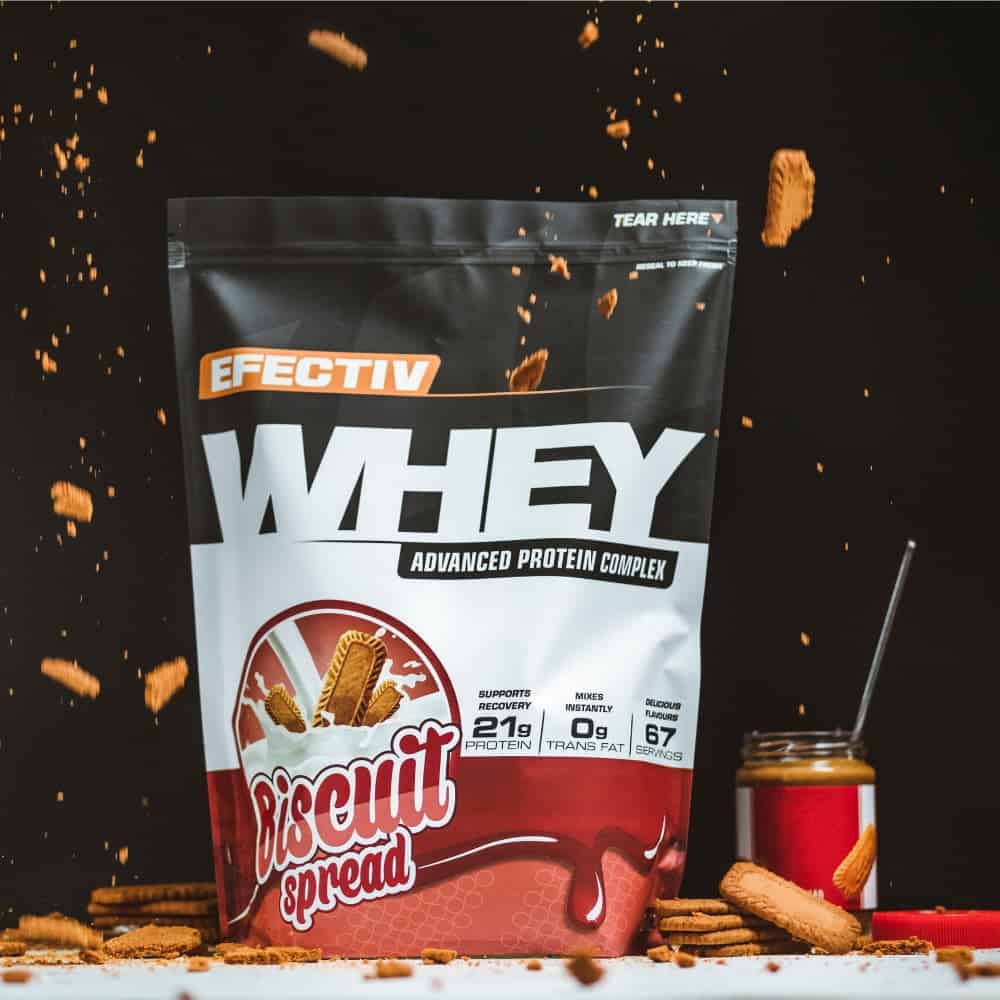 Having tried many flavours from the Efectiv Nutrition whey protein powder selection including peanut butter cups and salted caramel, the standout flavour that made it onto our Top 10 protein powders that you need to try & will love was biscuit which is of course a slight spin and nod to everyone's favourite spread Biscoff! Easy to drink with water, milk or a none dairy alternative, mixes instantly and is just one of those drinks that you look forward to drinking each and every day. There is also very little difference in the flavour if you use 1 or 2 scoops which is rare for a powder but that just shows how good the flavour profile is here and that it's not watered down easily.
| | | |
| --- | --- | --- |
| Calories: 115 | Cost Per 2KG Bag: £39.99 | Protein Per Serving: 21g |
Efectiv Nutrition branding is one of those that makes you want to try each and every flavour. A milkshake menu vibe that has your mouth watering is all that it can be compared to. Great colours, vivid text and a great use of imagery. What we did really like is the pack that the protein powder arrives in rather than those bulky tubs which do not exactly recycle well. It's easy to just store in your cupboard and doesn't take up any room at all in your recycling bin.
Looking to try this product? Use our Efectiv Nutrition Discount code GF10 to save 10% at checkout.
Ghost Lifestyle Cereal Milk Whey Protein Powder
The lifestyle brand that is taking over social media, Ghost was founded in 2016 by Ryan Hughes and Daniel Lourenco who were both fitness addicts who decided that there was a giant gap in the market for them to fill. Ryan Hughes is the brains behind the marketing and branding whilst Daniel Lourenco is the man with the formulas, science and flavours.
Ghost managed to achieve what many others could not and that is developing collaborations with some food and drink giants that include:
Oreo.
Sour Patch Kids.
Welch's Grape.
Sonic.
Warheads.
Chips Ahoy.
Nutter Butter.
Bubblicious.
This gave them the opportunity to offer flavours that the public were already familiar with and to of course increase branding exposure through every channel possible.
Ghost also signed many athletes to their program that includes Alphaland owner Christian Guzman, YouTube star Maxx Chewning and Ally Besse. Alongside protein powder, Ghost also sells Burn (fat burner), Aminos, BCAA, Legend (pre workout), vitamins and apparel.
Ghost Lifestyle cereal milk whey protein powder made our list due to just how delicious this basic, none collaborated flavour is. It mixes instantly and can even be added to your cereal to really help kickstart your day off. It's a generic flavour that outdoes pretty much everything else on the market. It's also good to know that it's also soy and gluten free.
| | | |
| --- | --- | --- |
| Calories: 130 | Cost Per 2LB Tub: £34.99 | Protein Per Serving: 25g |
Myoband Oblivion Plus Hydrolysed Protein Powder
As a 3+ year user of this product it had to make the list. Sometimes for me it was impossible to drink another shake and I need to make sure I was hitting my daily protein goals so through Eddie Hall's endorsement I found Myoband Oblivious plus that is perfect for intra and post workout protein consumption. It is also packed with electrolytes so it also helps with hydration which prevents cramps and muscle damage.
The difference between hydrolysed protein powder is that it's a refreshing drink in fruity flavours just like a fruit juice which means it can be drank quickly, easily and efficiently. Hydrolysed protein benefits include increased and faster availability of amino acids, faster recovery and it's even ideal for the elderly population.
| | | |
| --- | --- | --- |
| Calories: 30 | Cost Per 480g Tub: £29.99 | Protein Per Serving: 25g |
Myoband Oblivion Plus is available in 6 flavours that are Red Berries, Blackcurrant, Blood Orange, Lemon & Lime, Strawberry & Watermelon and English apple. Our favourite is Red Berries which mixes really well with cranberry juice if you are following Eddie Hall's recommendation on how to consume it.

CNP Salted Caramel Whey Protein Powder
OK, so the truth is CNP make a lot of great flavours and their actual best ever was the limited edition sticky toffee pudding but asides from that their salted caramel choice is the next best and you need to try it. CNP proudly offer a lot of sample packets on their site and quite possibly in your local stockist so make sure you grab a pack if you don't want to commit to a giant tub of it first. CNP Whey is available in 10 different flavours that include cereal milk, Easter egg, Strawberry and Chai.
| | | |
| --- | --- | --- |
| Calories: 123 | Cost Per 2KG Tub: £44.99 | Protein Per Serving: 23G |
CNP was one of the original supplement companies that was founded in Manchester in 1998 by owner and former bodybuilding champion Kerry Kayes with the mission to provide a comprehensive nutrition strategy for athletes and serious gym goers. This isn't a brand that just cares about flavour and branding but one whose heart truly lies in the quality of the product. They even help manufacture many other brands products which backs up their claims of ticking every box that has helped them create award winning formulas.
Product highlights include microfiltered to purity, premium formula and high in leucine and glutamine with their key ingredients including whey protein isolate, hydrolysed whey protein, whey protein concentrate and Astragin.
CNP is not just a protein powder company but one that also offers Loaded EAA (aminos), Peptide, Full Tilt (pre workout), creatine, protein flapjacks, vitamins, apparel, accessories, protein smoothies and much more.
Feel Clear Vegan Orange & Mango Whey Protein Powder
A brand that is promoted by Cheryl was never going to stay off our radar for long. Primarily a vitamins in the post brand that provide you with monthly subscriptions of joint remedies, meal replacements, beauty probiotics, skin care and even an incredible sleep formula have now created Feel Clear Protein that is 100% plant-based and made from hydrolysed clear pea protein. It's the perfect alternative to your usual bulky, thick milkshake type protein powders which means you will no longer have a bad stomach and feel bloated after use.
| | | |
| --- | --- | --- |
| Calories: 53.2 | Cost Per 320g Bag: £37.07 | Protein Per Serving: 10g |
At a much higher price point it may put some people off but if you use their subscribe and save program it comes down to just £25.95 which is a saving of 30%. It's a no contract offer that you can cancel at any time.
Feel clear vegan protein is available in just Orange and Mango but luckily it tastes fantastic. Super refreshing, mixes instantly and doesn't leave your mouth dry like most other clear proteins on the market.
Did you know that this products protein source has 94% bio-availability? Feel is a company that stands behind sustainability, has as little carbon footprint as possible and makes sure all their products are gluten and GMO-free! Feel clear protein is also free for all 14 major allergens, so it's pretty safe to say that this product will do you nothing but good.
Alpha Lion Superhuman Hulk Milk Whey Protein Isolate.
A brand that you might not be familiar with but one that is growing at an impressive rate, Alpha Lion offer their Super Human protein that helps support lean muscle growth, recovery and helps increase muscle protein synthesis. Available in Hulk Milk, Orange Gainsicle, PB & Gains and Coca Buffs.
Alpha Lion protein powder guarantees no bloating thanks to them using 5 digestive enzymes that are Amylase, Protease, Lactase, Lipase and Cellulase which all help to promote healthy digestion. This means you can crack on with your workout without feeling like you might have to run to the toilet at any given second.
Taste wise the Hulk Milk flavour is simply vanilla ice cream which we found to be refreshing, tastes great with just water and even adds well to porridge if you are looking for your protein oats fix in the morning.
| | | |
| --- | --- | --- |
| Calories: 140 | Cost Per 1.87LB Tub: $49.99 | Protein Per Serving: 25g |
You can also save 10% on all Alpha Lion products:
Grenade Hydra 6 Killa Vanilla Protein Powder
It's always going to be hard to make a supplement review piece and for it not to include Grenade who are most know for their Carb Killa bars and ready made protein shakes but also offer a whole host of products that includes apparel, accessories, fat burners and biscuits.
The Grenade Hydra 6 premium protein blend is available in Killa Vanilla, Strawberry Seige, Chocolate Charge and Cookie Chaos. The product contains fast digesting whey protein isolate which releases micellar casein protein slowly. It also contains 5.4g of BCAA per serving which helps aid in muscle recovery.
| | | |
| --- | --- | --- |
| Calories: 130 | Cost Per 1816g Tub: £45 | Protein Per Serving: 25g |
Protein World Chocolate Mint Whey Protein Concentrate
One of them most delicious protein powders on the market is Protein World chocolate mint whey protein due to it's smooth texture, light feeling on the stomach and a flavour that reminds you of eating ice cream on the beach!
| | | |
| --- | --- | --- |
| Calories: 158 | Cost Per 1.2KG Bag: £30 | Protein Per Serving: 30.7g |
This is the highest protein per serving on our list which is ideal for those who really struggle to hit their daily macros as you can easily start or finish your day with one of these easy to drink shakes. Formulated by experts and offering super fast delivery alongside 11 flavours, Protein World Whey Protein Concentrate is a product that you have to try.
Save money with Gymfluencers! We are proud to offer 30% off all Protein World products by you simply using the code: GYMFLUENCER30 at the checkout.
Ghost Lifestyle Oreo Whey Protein Powder
Ghost are the only brand to make the Top 10 protein powders you need to try & will love list and that's simply due to them collaborating with everyone's favourite cookie Oreo! How can you not try this flavour? This is truly what dreams are made and with 130 calories and 25g of protein per serving it's like you get to eat cookies and not feel bad about it. It even has real cookie pieces in the mix which means you get to carry on chewing even after you've downed quite possibly the greatest tasting protein shake of all time.
Ambrosia Collective Planta Banana Maple French Toast Premium Plant Protein
A brand created by C.T. Fletcher and Mike Rashid, Ambrosia Collective is the final product to make it onto our top 10 protein powders that you need to try & will love list and it's another plant-based brand.
The Ambrosia Collective brand was created so you can enjoy protein powders in delicious flavours whilst still sticking to a healthy plant-based diet. At the time of launch there were very few products in this market and they generally tasted terrible. The Maple French Toast Premium Plant Protein is a rich, decedent and satisfies every sweet tooth crave that you might be experiencing. It mixes in seconds and it's incredible to use for protein oats, protein flapjacks and protein pancakes. Just add a scoop to your mix and enjoy!
| | | |
| --- | --- | --- |
| Calories: 110 | Cost Per 757.7g Bag: $49.99 | Protein Per Serving: 20g |
Get 5% off at checkout using our discount code: GF5