When it comes to being their best selves, women face unique challenges that can make it a little more difficult to stay healthy and happy.
From menstrual cycles to menopause, their bodies go through a lot, and it's important to give them the support they need to thrive. That's where Vitl's Female Multivitamin comes in!
This transformative supplement is like a secret weapon for women's health. It's specially formulated to deliver all the essential vitamins and minerals you need to stay on top of your game and keep crushing life.
Whether you're a busy mom, a working professional, or just someone who wants to take care of yourself, Vitl's Female Multivitamin can help you feel like the superhero you are. And in this article, we'll be explaining how.
Vitl Female Multivitamin
It's not often that you find something that's female-focused in today's world, so this one is something to celebrate. Vitl's Female Multivitamin was created by a team of expert nutritionists to support energy levels, healthy skin, hair, and nails, and to support hormonal balance and general well-being.
It features 21 carefully selected ingredients that are all equally important in their own right, including a full B Vitamin complex to promote normal energy-yielding metabolism, Vitamin D to help maintain optimal calcium levels, and Vitamin B6 to regulate hormonal activity.
Minerals such as Iron counteract fatigue (which I'd imagine is especially important for the mums out there), while Zinc aids with the maintenance of skin, hair, and nails. Iodine is also in the mix to sustain healthy cognitive function, keeping you sharp and ready to tackle to day's challenges head-on.

A further scan of the ingredients list reveals Beta-carotene, which has antioxidant properties that protect cells from oxidative stress and the skin from sun exposure, and Ashwagandha, a potent plant that is known for its anti-anxiety and stress-relieving benefits.
The Vitl Difference
You might be wondering why you would pick Vitl's Female Multivitamin ahead of the many others on the market. That would be a very valid question, but one I have the answer to.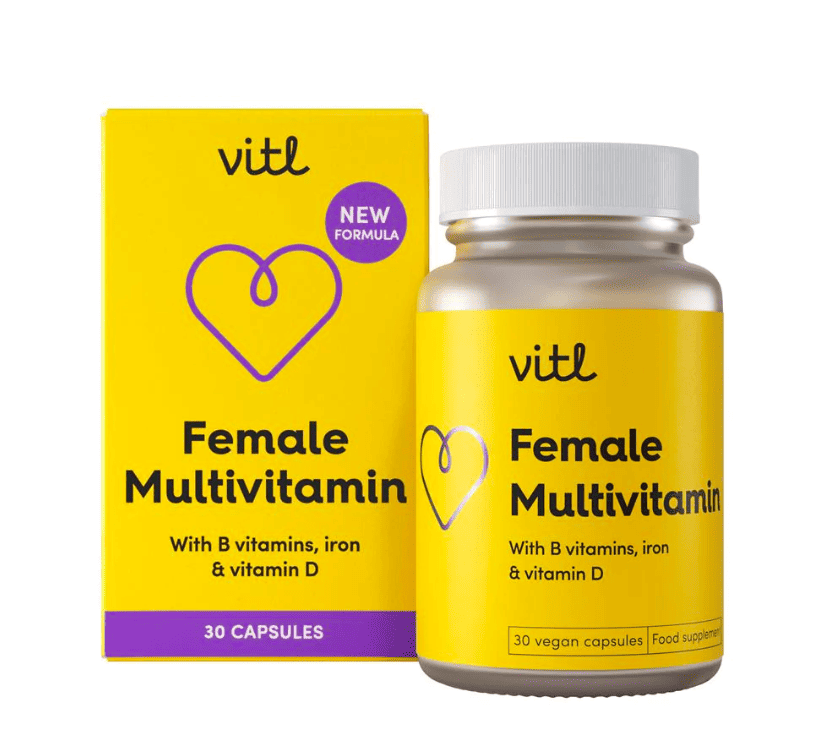 There's no room for anything but goodness in Vitl's daily, vegan-friendly capsules. That means they're completely filler free, so no bulking agents, artificial colours or preservatives.
It's quite common for supplement brands to bulk out their formulas with anti-caking agents and bulking powders to make you think you're getting your money's worth when in reality, that couldn't be further from the truth.
Similarly, while other products are loaded with preservatives, colourants and non-medical ingredients that harm the bioavailability of the vitamins, reducing the impact of the nutrients they provide, Vitl promises absolute absorption.
With this Female Multivitamin, you'll get each individual nutrient in its purest, most bioavailable form, so you'll actually absorb all the goodness contained in each digestible and easy-to-swallow capsule.
To put it bluntly, this formula wasn't made with cost-cutting in mind, it was designed to provide maximum benefit for the end user – you.
Money, Money, Money
While we're on the subject of cost, let's take a look at how much you'll have to part with for Vitl's Female Multivitamin. The brand offers two options for women looking to boost their health. The first is a single purchase arrangement, which would see you receive a tub of 30 capsules – a month's supply – for £19.95, with no further strings attached.
However, as anyone who has used a multivitamin will know, it takes a little bit of time until you start to experience the full benefits, and continued use will only improve that. For that reason, I'd suggest that you go for the second option – the monthly subscription.
For $18.95, you'll receive monthly deliveries, ensuring your stores never run dry. Plus, you can opt out or cancel at any time. No dramas, no stress.
Whichever one you choose, head to Vitl's website to set yourself on the road to better health.